Manchester United's Mike Phelan had some sage advice for grassroots coaches recently at an event supported by The Coaching Manual.
As well as his coaching roles, Mike Phelan is Chairman of the UK's number one soccer equipment provider Sensible Soccer, who work closely with The Coaching Manual to provide coach education opportunities to grassroots clubs.
Mike was speaking at a CPD education event hosted by Sensible Soccer at the Cheshire Football Association's headquarters in Northwich, to more than 150 local coaches in attendance.
The Coaching Manual were in attendance to support the event, donating prizes for the evening's raffle and offering help and support as Sensible Soccer's coach education partners.
Mike said: "My career has not always been up here, my career started down here. I learned on my feet. I learned how to think, I learned how to speak, and all these things are relative to you people in this room.
"How many times do you listen to yourself talk? Some people will tell you that you talk too much, or talk a lot. But listening to yourself is a good way to ask yourself "well how does a kid understand what I'm saying? What am I actually saying? Do I mumble? Am I specific? Am I aggressive?" Some people have aggressive tones, it's just the way they speak. Some are quite soft. But there's a learning session in there for you as coaches. 
"Try to run before you can walk. You know, you're all probably working at different levels, and you're all probably pushing to be better. But what I've found at grassroots is that some of you will find the level that you are really comfortable at working at.
"You might aspire to be a professional coach - and that's great, there's a mechanism to get you there through your FA qualifications, etc - but at grassroots, find your level, and use your ability in that level.
"That's where the satisfaction is, seriously. Because as you move up, it's far more challenging. We've been on the road for a few weeks now and I did a session with eight-year-old girls and that was really challenging for me, I was really out of my comfort zone. It was challenging from them too, but we got there in the end. Then I moved onto a session with 18s, 19s, 20s, and there's an edge there - there's a bit of character. They were pretty nitty gritty. They were trying to impress me - I don't know why! I was just trying to give them some feedback. But then you've got to be a different type of person."
As a player, Mike Phelan won the Premier League as a player with Manchester United, where, as a coach he won another five Premier Leagues and featured in three Champions League finals winning the coveted trophy once.
Phelan also won the Premier League manager of the month award during his first month in the top flight as a manager, in charge of Hull City, where he coached Harry Maguire, Jarrod Bowen and Andrew Robertson early on in their careers.
He continued: "There's a lot as a grassroots coach to take on board. And also, it's your time. You're not getting paid for this. Time, and energy, and planning come into it. One of the things I always say, and this might be contradictory to what you've been taught at this level, but I work on strengths. Not weaknesses.
"I haven't got time for weaknesses. By the time I've got them, they should have enough in their locker to work with. You guys will have to look at weaknesses, but if you concentrate on weaknesses too much you will never move forward. When you've got a group of kids - whatever age - analyse them, see what they've got, and encourage that. Really encourage that and drive that all the time. You'll get the feedback from them.
"If you start looking at the negatives and the things they can't do, you don't have a session. You haven't got time for that. So look at the positives, look what they've got, and you'll get the feedback and enjoyment from them."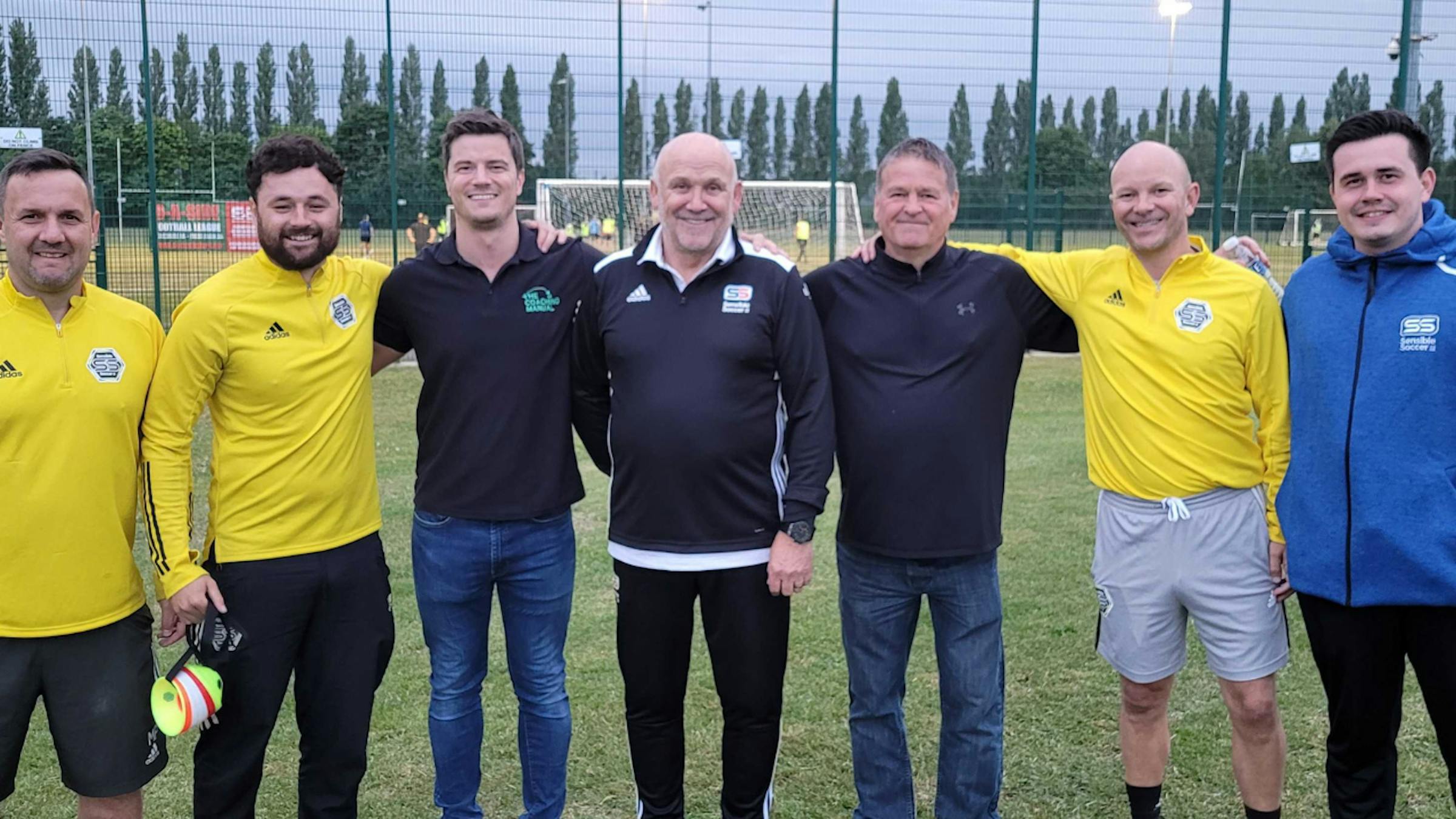 After his presentation, Mike Phelan took the coaches in attendance onto the adjacent 3G pitches to observe his session with Northwich Victoria FC's under 21s. He explained his instructions and interjections, as well as inviting questions during the session.
Following the session, Mike fielded more in-depth questions during a Q&A session, giving open and honest answers to a number of grassroots coaches looking to further their education in the game.
Get sessions from Mike!
If you would like to view session content from Mike Phelan, you can access his three Masterclass sessions recorded exclusively for The Coaching Manual by using the links below:
Get access to The Coaching Manual for free with Sensible Soccer
Are you looking to equip your team with new balls, bibs, equipment, and more before the start of next season? Then look no further than this offer from our friends at Sensible Soccer!
Spend more than £395 and use code TCMOFFER to get Premium access to The Coaching Manual for a full year absolutely FREE! (Save £60)
From the UK's best selection of balls, goalposts, nets, bibs, and cones, to innovative training equipment such as mannequins, rebounders, and speed ladders - Sensible Soccer has plenty of stock to help football clubs of all levels to train better.
All you have to do to activate the offer is use code 'TCMOFFER' when checking out your purchase of £395 or more - The Coaching Manual will be in touch within a couple of days to activate your account and get you started!