As we close in on the winter months, we will see a number of mid-season breaks which mean coaches won't see their players for a number of weeks. Whether it's Christmas, Thanksgiving, or Hanukkah, we know that time off can be disruptive for your players - but it needn't be.
In this guide, we take a look at the best ways to make the most of time away from your players, while still ensuring their development and improvement - and how The Coaching Manual can help.
Use the time to reflect and re-assess
As a coach, you should always look for opportunities to reflect and asses your performances - both that of your team, and your own as a coach. However - with training and matchdays taking up enough of your time as it is, it's not always easy to fit in a period of reflection.
The winter break is an ideal time to take stock of how the season is going and ask yourself: what is working? What is not working? Should you reassess your targets for the season? Is there anything you can do differently in training?
One thing that can help with reflecting on matches is if you are using The Coaching Manual to create match reports - giving you points of reference for your team's performances over time. Check out this guide here.
Share player training content with your players
Did you know that The Coaching Manual is also packed full of player content? From 1-to-1 drills they can do at home, to informative infographics that can encourage good habits, there's a whole library of content on The Coaching Manual designed to help players improve.
Of course, TCM allows you to share with your players the training session you will be putting on ahead of time, but with our player-specific resources you will also be able to ensure your players are in the best condition - both technically and physically - when they turn up for training or on matchdays.
You can share position-specific content with your players for them to work on over the downtime, such as How to be more clinical in front of goal for strikers, or How to make better decisions as a defender. You can even use The Coaching Manual's intuitive Folders feature to share certain specific content with different groups of players.
Make use of our intuitive Folders function
The Folders Function on The Coaching Manual is not just for organising your own sessions and match reports. Folders gives you the ability to create specifically-curated banks of content for a variety of purposes - including, for example, 'Player Education' for the winter break. Set a Folder system up like the below, share it with your players, and they'll have a wealth of off-field drills, guides, and other content to sink their teeth into while they're on their winter breaks.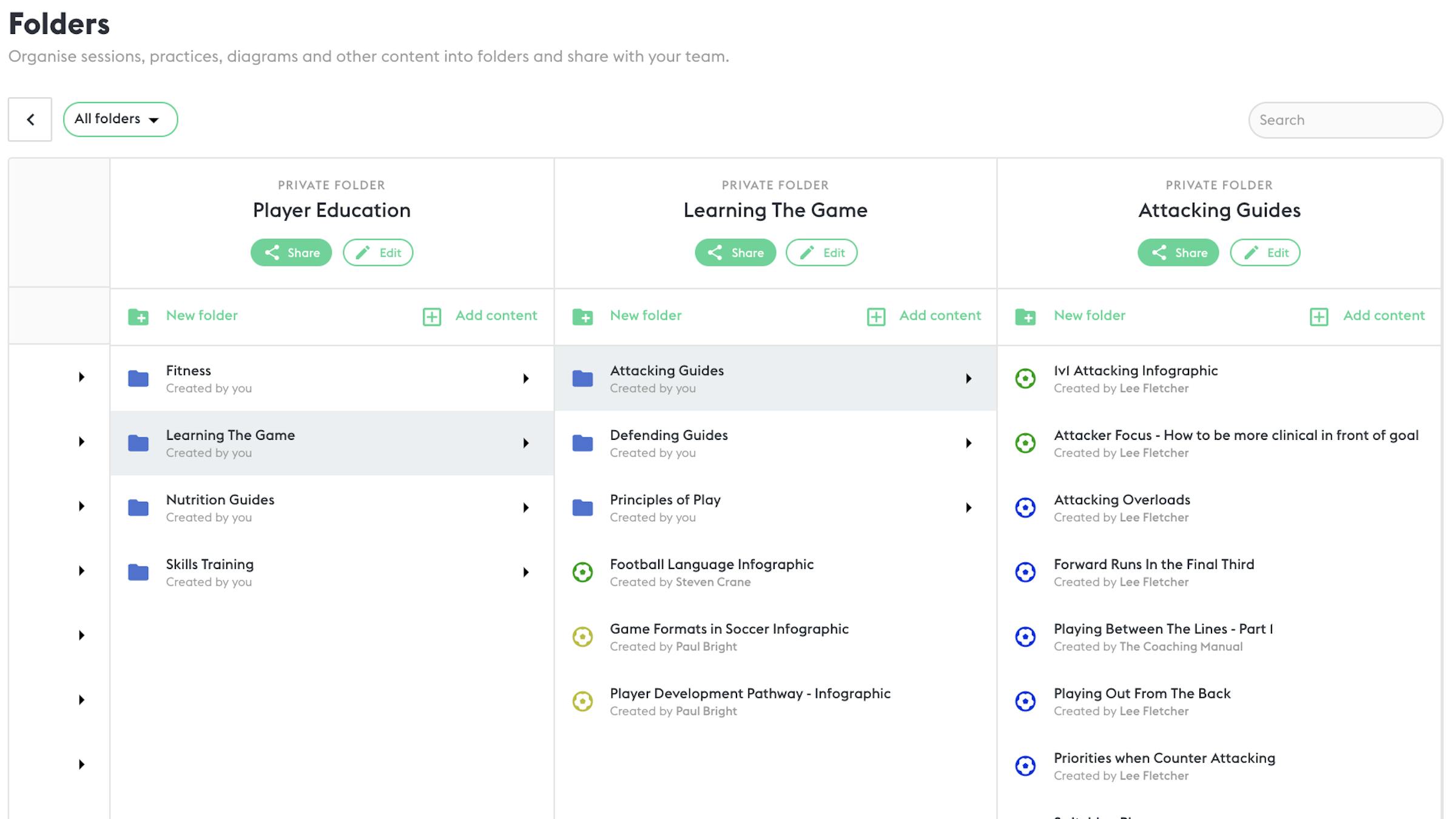 Set development plans
Facing a period of time away from your players? Or just want to make the most of the time your players spend away from the field? We've got the perfect solution for you - TopTekkers. Our player development app TopTekkers allows coaches to set development plans for teams and individuals, and track their players' progress at the touch of a button.
For more information about TopTekkers visit www.toptekkers.com or email sales@toptekkers.com to learn about club packages.
Use the time to grow as a coach
It goes without saying that the best way to improve as a coach is to learn from other coaches, more experiences coaches, and successful coaches from around the world. However, like reflection, sometimes it's difficult to find the time we need to sit down and study other coaches. It's even more difficult to find opportunities to observe training sessions at academies or elite clubs.
That's where The Coaching Manual comes in. We have curated a comprehensive library of broadcast-quality video footage featuring training sessions from some of the most revered coaches in the sport. You can observe full training sessions, and hear the thought processes behind the execution of those sessions, by coaches such as René Meulensteen, Steve McClaren, David Moyes, Gary Rowett, Terry Moore, Martin Hunter, and more, just by opening your laptop.
As well as all the fantastic session content, The Coaching Manual provides a number of other opportunities to further your coaching journey, in the form of educational courses. We're not running one currently, but if you missed our Principles of Play Certificate, you can still access all of the exclusive content from the course.
The content pack includes:
More than 20 exclusive Principles of Play Webinars from Coaching Manual experts and special guests, which amounts to around 30 hours of learning content.
More than 13 individual practical exercises which are designed to help your players learn the principles of play in training.
Access to more than 30 folders organising The Principles of Play content into an easy to use format. 
How else can The Coaching Manual help?
Club accounts
The Coaching Manual offers club packages for clubs and organisations of all sizes, enabling you to support your teams and coaches more efficiently while providing them with the best session content available anywhere online. Enquire today by emailing sales@thecoachingmanual.com.
Individual Premium accounts
The Coaching Manual provides some fantastic guides and education pieces for coaches to help better understand and support their players.
What else do you get with a Premium subscription?
Our LMA Masterclass series featuring sessions from David Moyes, Rene Meulensteen, Alan Irvine, Steve McClaren, and more
Access to 100s of other exclusive sessions
Full access to our session creation and season planning tools
The same coaching content used by the Professional Footballers' Association
Coaching Focus Web Series (Seasons 1 & 2)
For the equivalent of just £5 ($7) a month when you pay annually, sign up and start taking advantage of all that The Coaching Manual has to offer today.