Get 3 months Free with code COACH21.

The Coaching Manual is delighted to partner with Pitchero, the award-winning provider of grassroots sports technology, to help football coaches manage their teams online.
Pitchero is trusted by 60,000+ teams and over 100,000 football coaches worldwide who use their websites and apps to pick teams, manage fixtures, analyse stats and message players.
The combination of a club website and team management app means a football club can attract and retain new players, increase revenue and save club volunteers hours of time. Coaches can manage training and attendance, prompt players and parents for availability and collect match fees effortlessly on the move.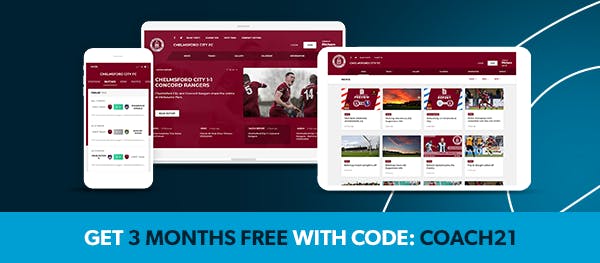 Instead of evening admin, log your in-game stats from the sidelines and share online in real-time. A team's fixtures, results, league tables and match reports are all available and you can publish squad profiles, including player statistics, biographies, team photos and match videos.
A club is able to register members through the website or app so important records, like health considerations or emergency contact, is available by those who need it at pitchside. Club officials have the peace of mind that members' data is always stored securely online. No more spreadsheets to contend with and stay GDPR-compliant.
It's an easy process for a football club looking to get up and running with Pitchero:
Create a free website for your football club in just a few minutes.
Add your teams, and invite your fellow coaches to join as admins.
Invite players and parents to join. Communicate and select teams via the apps.

To find out more and access your extended Pitchero free trial, click here.