Coach education is vital, and without it, the sport of soccer ceases to exist. We established why that's the case in our recent article here.
And if you are looking to implement a structure of coach education, or improve the current educational framework for your coaches, there's no better choice than The Coaching Manual. Your coaches - and your players - will thank you for it.
The best session content
There are many things that we are proud of at The Coaching Manual, but one that stands out is our library of broadcast-quality video content featuring training sessions delivered by some of the most-respected coaches in the game.
But why is TCM's coaching content the best?
Broadcast quality
When we capture our training content, we use broadcast-quality recording equipment that wouldn't be out of place pitchside at Old Trafford. That way, you can see every detail, every step, every facial expression, and every blade of grass, in order to give you the best feel for the action.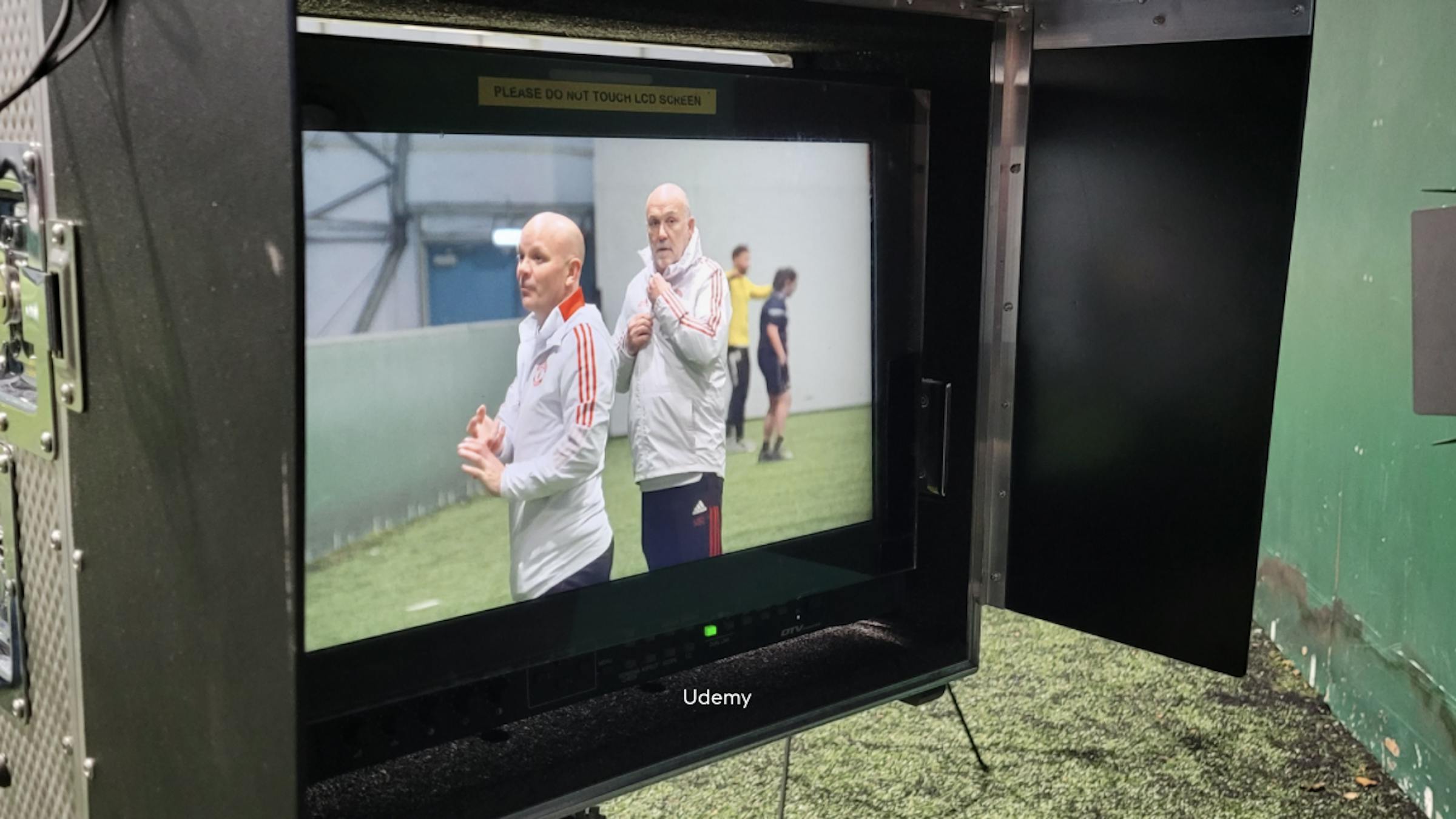 As well as intimate close-ups that help get across each coach's instructions, our content features eye-in-the-sky full-pitch vantage points to help you fully understand what's going on on the field.
Our content looks just as good projected onto a classroom screen as it does on your coaches' mobile phones.
Raw, real, and unedited
When you watch video content on The Coaching Manual, the experience is as close to being on the pitch stood next to the coach as you can get.
In our content, we leave in the bits that other platforms cut out - warts and all. We leave in practices being set up and explained, players making mistakes, breakdowns in communication, missteps, and miscues. Why? Because it's important to see how coaches adapt to difficult situations.
As coaches, we know that sessions don't always run smoothly. Player behaviour, player quality, players maybe not even turning up - we've all had to deal with challenges that feel beyond our control. With our content, you can see how top-level coaches with decades of experience react when things don't go as planned.
When David Moyes spots a mistake, does he interrupt straight away? Does he wait until the next break in play to correct it? Does he single the player out? How does he move the session forward? With our raw, real-world sessions, you get the imperfect reality of coaching young soccer players.
The best coaches
Through our partnership with the League Managers Association, we have recorded full training sessions with some of the most high-profile and respected coaches in the professional game.
From David Moyes and René Meulensteen to Stuart Pearce and Steve McClaren, the coaches featured on The Coaching Manual not only bring to the table their own wealth of experiences and expertise, they bring with them the influences and impact they have themselves experienced from working with some of the most legendary coaches of the past - Dick Bate, Howard Wilkinson, Brian Clough, and more.
Let's take the recent example of Stuart Pearce's content on The Coaching Manual. The reason why Stuart Pearce's content is so powerful, is that he has extensive experience of his methods actually working, whether that be from what he learned during his playing days under the likes of Brian Clough and Terry Venables, or through working alongside high caliber coaches and players in his own managerial career.
Build your perfect club structure with folders
Organise sessions, practices, diagrams and other content into folders and share with your team. The folders function has long been the best way to organise sessions, practices and guides for your team on The Coaching Manual.
We have recently made some updates to this functionality so that it's now easier than ever to navigate and create your own folders filled with the content you want your team to access. Check out this quick Video Guide so you can see what has changed and how you can get the most out of the improved features:
We've set up a new content structure using the Folders tool on The Coaching Manual - we can set this up for your club, too - just drop us a line and we'll show you how we can help you and other coaches at your club/organisation. Watch more below:
The best Season Planner
Want to be able to plan a whole season's worth of training sessions with the best coaching session content available anywhere? The Coaching Manual allows you to do just that with the touch of a button.
You can either populate the easy-to-use calendar with relevant sessions depending on your players' age range and your goals for the season, or you can add in individual sessions yourself until you have the perfect season plan. What's more is that you can then share the plan with other coaches at your club, or even the players themselves, so everyone is on board with what you are trying to achieve. It's one of the many reasons why The Coaching Manual is ideal for formulating and communicating a philosophy or curriculum across your organisation.
Learn more about the Season Planner tool with our tutorial below:
The best session creator
Want to use The Coaching Manual to create and compile your own training sessions as well as those delivered by top elite coaches? No problem! Using the Creator tools to build your own diagrams, practices, documents, or full sessions couldn't be more simple.
Practice animations can be created using USSF standard visuals, or TCM's clear and simple house style. Either way, your players will find your instructions easy to follow.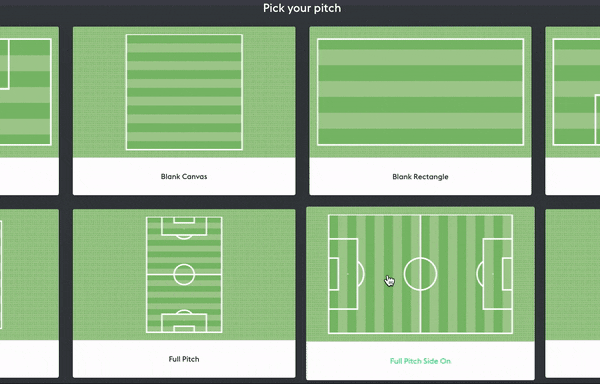 Opportunities to further your coaches' journeys
There's no better way to develop as a coach than by learning from other coaches. However, these days your local professional academy is not as accessible as it may have been 20 years ago, when you could turn up with a notepad and take notes from the perimeter fence. With The Coaching Manual, you can observe sessions, hear first-hand instructions from top coaches, access the same diagrams that are shown to the players, and much more - it is the best way for coaches to observe and learn from coaches.
We also run our own professional development courses, which have been met with overwhelmingly positive feedback. Keep your eyes peeled for more courses from The Coaching Manual.
If you missed The Coaching Manual's Principles of Play course, you can now access all of the exclusive content from it here.
The Coaching Manual is a team of passionate soccer people
At The Coaching Manual, we're passionate about what we do. We also understand the issues, obstacles, and needs of soccer coaches of all levels - because most of our team are coaches ourselves.
Across the company from content development, to tech development, and sales, The Coaching Manual is made up of experienced coaches who hold qualifications including UEFA A Licence, UEFA B Licence, and the USSF A Licence. We also have coaches in our company who have experience working with clubs and academies in the Premier League, La Liga, and Major League Soccer. One of our founders is a former professional player and the other is a grassroots coach - soccer runs right through the people at The Coaching Manual, so you know you're in safe hands that understand the sport.
"You're in safe hands"
If you're thinking about improving coach education at your club, there should be no debate - you should have TCM.  Coach education comes more and more important as we come out of Covid, because if your coaches - and players - aren't improving, they're going to get left behind. It's that simple.
If you're a club or organisation looking to improve the level of your coaches - look no further, we have exactly what you need. Drop us a line to arrange a call to discuss exactly how we can help on sales@thecoachingmanual.com
If you're an individual coach looking to further your journey, why not try one of our Premium individual memberships? You will gain access to 3,000+ great pieces of content as well as professional organisational tools that help you organise your training at your fingertips.
Get content like this and more with a Premium subscription!
Our LMA Masterclass series featuring sessions from David Moyes, Rene Meulensteen, Alan Irvine, Steve McClaren, and more
Access to 100s of other exclusive sessions
Full access to our session creation and season planning tools
The same coaching content used by the Professional Footballers' Association
Coaching Focus Web Series (Seasons 1 & 2)
For the equivalent of just £5 ($7) a month when you pay annually, sign up and start taking advantage of all that The Coaching Manual has to offer today!