Introduction
There is an abundance of analysis of matches at the World Cup, but The Coaching Manual does things differently.
We give our audience insight into the tactics and systems on display in Qatar, but we go the extra step and give our users practical training sessions that they can deliver to their players so that for the next 6 weeks the World Cup can inspire our coaches and players to emulate their heroes on the training field.
So, whilst your regular season curriculum might go out of the window for the next few weeks, you can still use the World Cup to create genuine outcomes for everyone.
Formations 
USA  1-4-3-3
Wales 1-3-5-2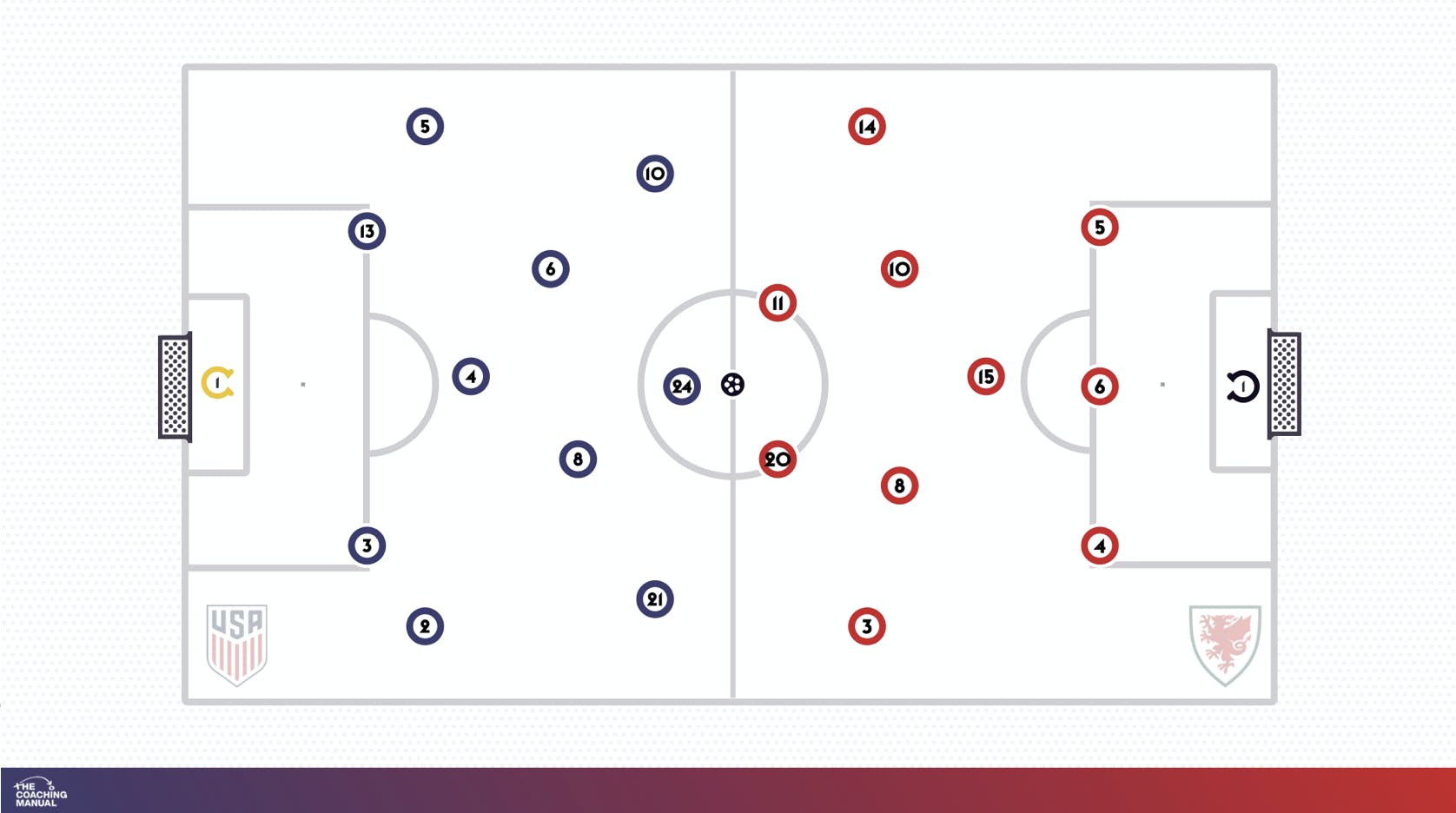 First Half Review
The first half was dominated by USA (66% possession) who forced Wales Goalkeeper Hennessy to make an early reaction save to keep out his Welsh team-mate Joe Rodon, before USA's Josh Sargent hit the post with a header (xG - 0.19).
The States continued to dominate the opening period and on 36 minutes the US talisman Pulisic drove through the Wales midfield and into the final third to play a perfectly-weighted pass into the path of Timothy Weah, who finished first time to open the scoring for USA (xG - 0.33).
This 'Breaking into the Final Third' session will allow coaches to teach their players different strategies and techniques to enter the final third and create goalscoring chances - https://app.thecoachingmanual.com/Session/178
Second Half Review
The addition of 6ft 5in FC Bournemouth Striker Kieffer Moore changed the attacking options and approach for Wales as they went more direct and were able to advance further up the pitch to find their target man. 
This resulted in Moore nearly scoring from a corner on 65 minutes, as he headed a near-post chance over the bar (xG - 0.18). As the second half progressed, Wales were able to enjoy more of the ball than in the first half, with 50% possession.
This session delivered by Terry Moore will develop your players' ability to score goals by crossing and finishing in a game - https://app.thecoachingmanual.com/Session/735
With 8 minutes remaining Bale was able to get ahead of USA defender Walker Zimmerman in the penalty area and was tripped to win the penalty. Wales all-time leading goalscorer, and arguably their greatest-ever player, stepped up himself to strike the ball past USA Goalkeeper Turner and ultimately tie the game (xG - 0.76).
Specific Strategy: Switching Play to create 1v1 opportunities
USA's Christian Pulisic was a key player when his team had possession, and it was a clear strategy of the States to switch the ball across the back line to find Pulisic in 1v1 situations or in space  to dribble into the final third.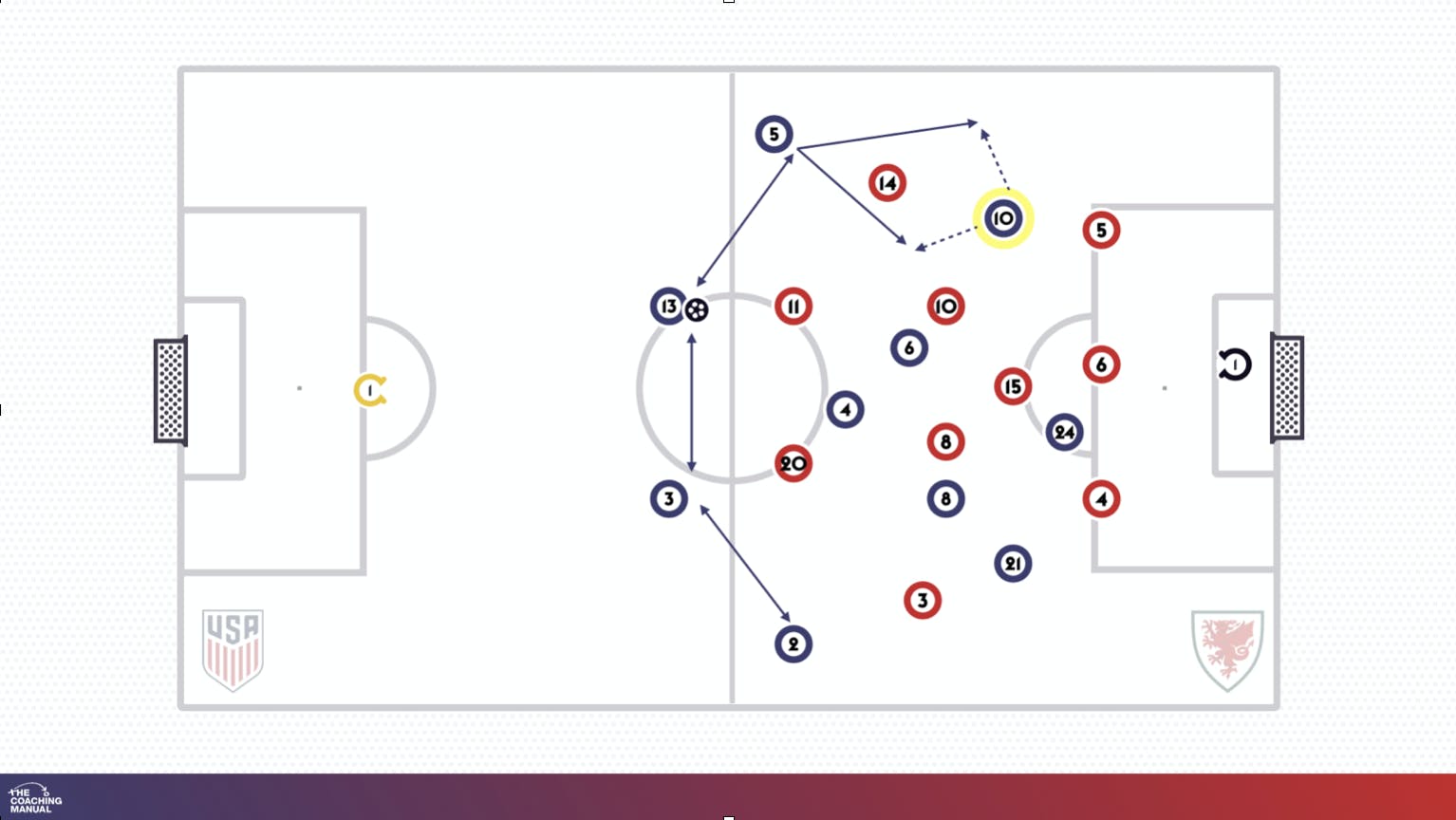 As the back 4 of Robinson, Ream Zimmerman and Dest continued to switch the ball across the back line, this forced Wales to shift and slide across the pitch as a team. 
USA would utilise this strategy to then switch play back across the pitch to combine with Left Back Robinson and create opportunities for Pulisic to move and receive in space.
This article highlights the strategies and requirements when switching play - https://app.thecoachingmanual.com/Content/5001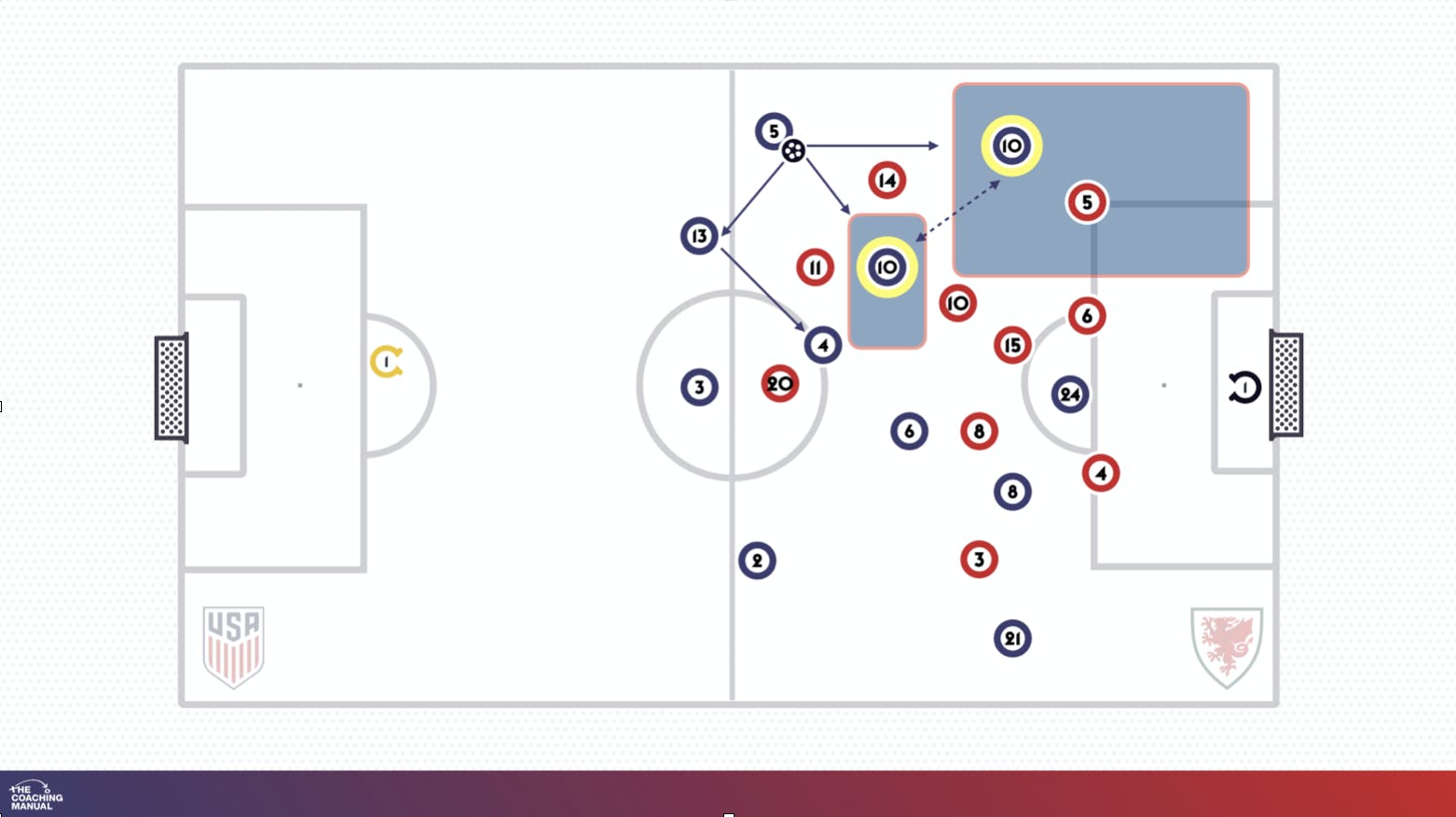 Throughout the game, Robinson and Pulisic recorded 21 passing combinations resulting in 15 attempted dribbles (8 successful), more than double the amount of any other player on the pitch.
The quality of Pulisic in possession allowed him to take up positions in between the lines of the Wales midfield and defence,  as well as operate centrally as well and in wide areas.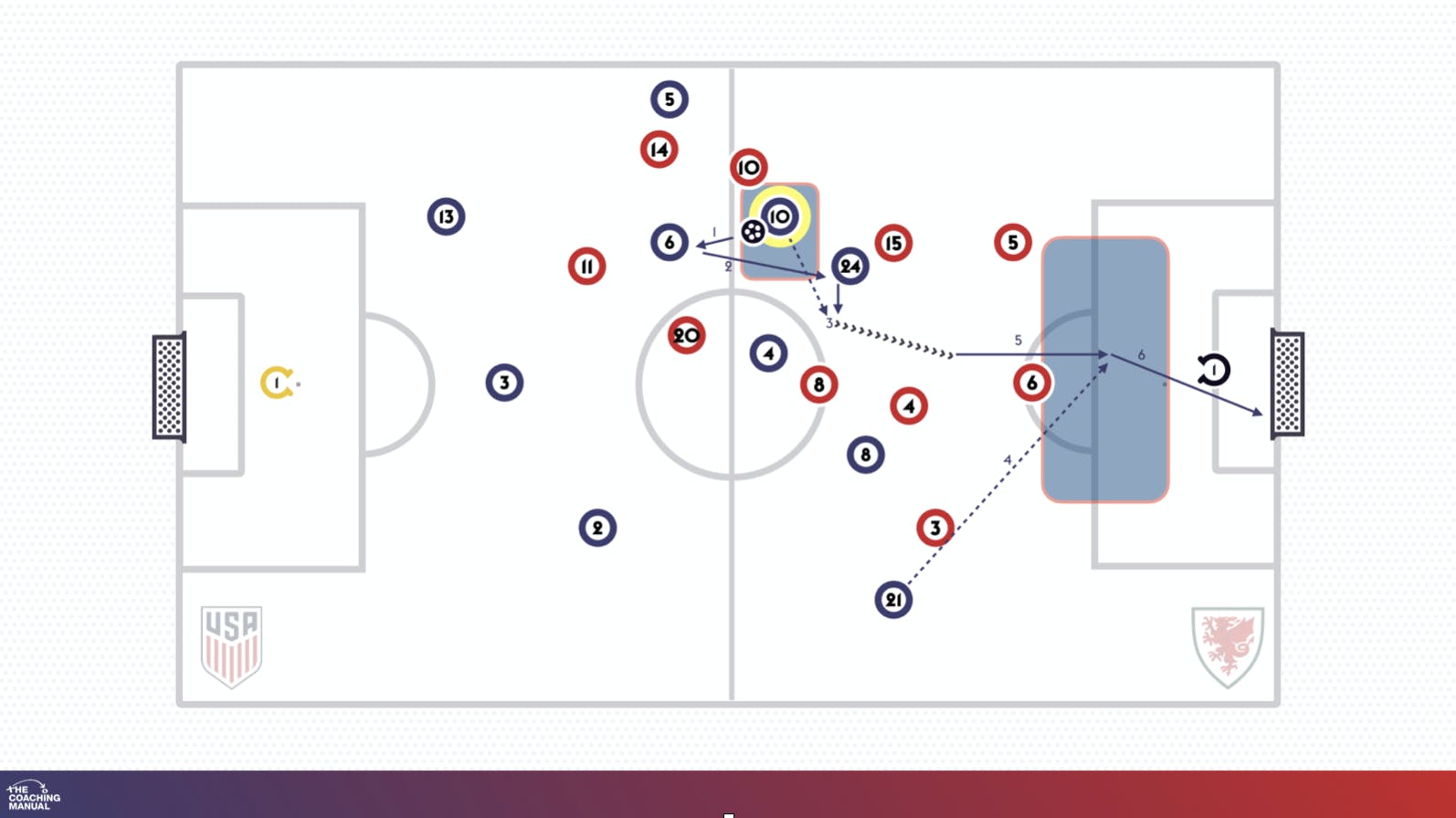 The movement of Pulisic led to USA's opening World Cup goal, as Pulisic dropped deep to receive a ball and head down to Musah before spinning and receiving the 3rd pass from Sargent to dribble into the space created.
As Pulisic dribbled towards the final third, Weah recognised the space in behind the Wales defence. Pulisic played a perfectly weighted through ball on to Weah's run, allowing Weah to finish first time.
This small sided game on 'Finishing In And Around The Penalty Area' will help coach players confidence and ability in front of goal - https://app.thecoachingmanual.com/Content/1320
Stats of the Game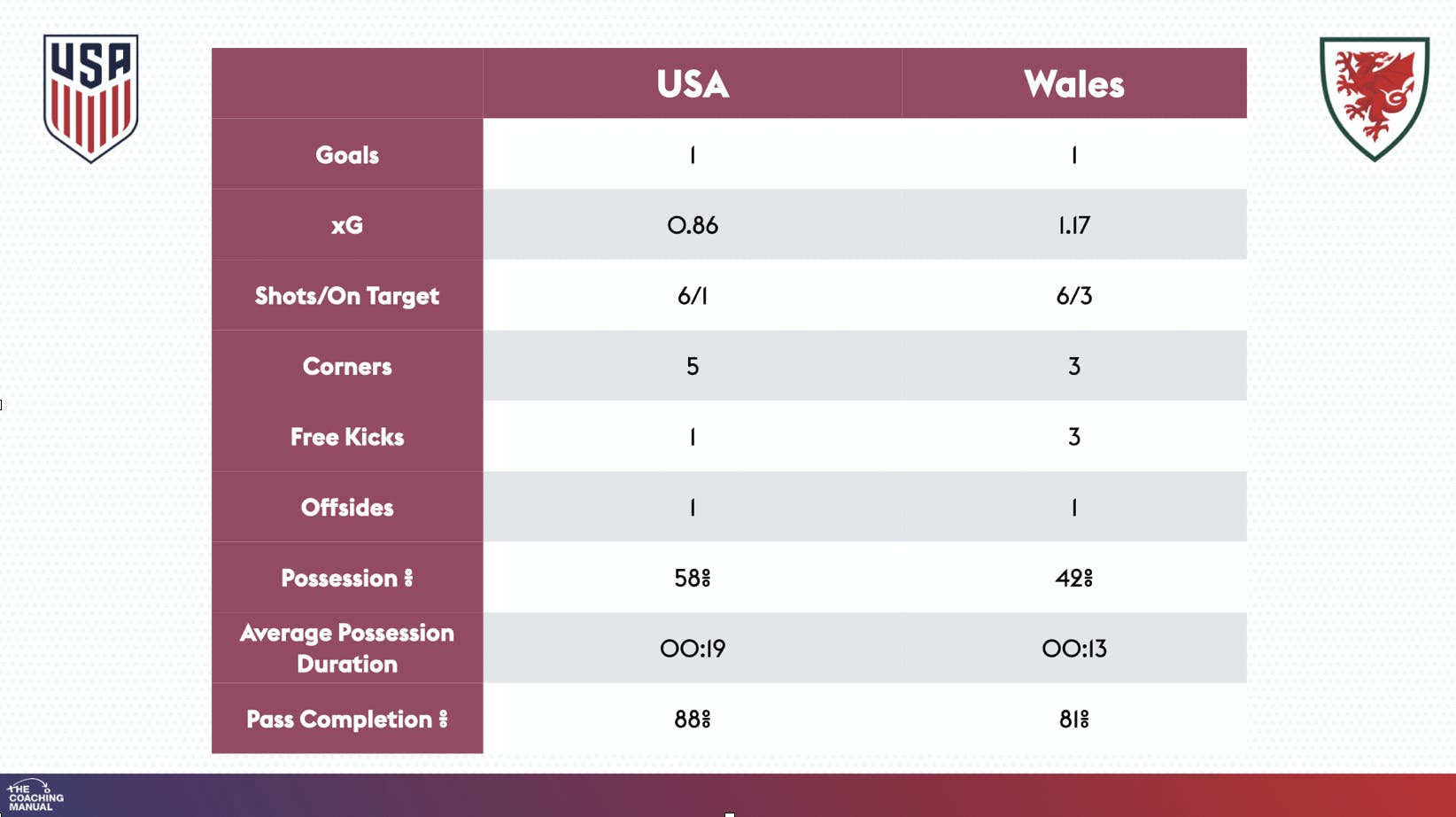 Next Game
USA will face England in their next game on Friday 25th November as Wales play Iran on the same day, with both nations looking for the 3 points to keep their qualification chances alive.
The Coaching Manual can help you
If you want to access the content discussed in this article, sign up for a Premium account for just $7/£5 per month!
Did you know that The Coaching Manual does packages for clubs, providing you and your colleagues with professional tools that help you educate your coaches, communicate your curriculums and philosophies, and provide an all-round better experience for your players? Enquire now by emailing sales@thecoachingmanual.com.