Formations
England: 1-4-1-2-3
Senegal: 1-4-2-3-1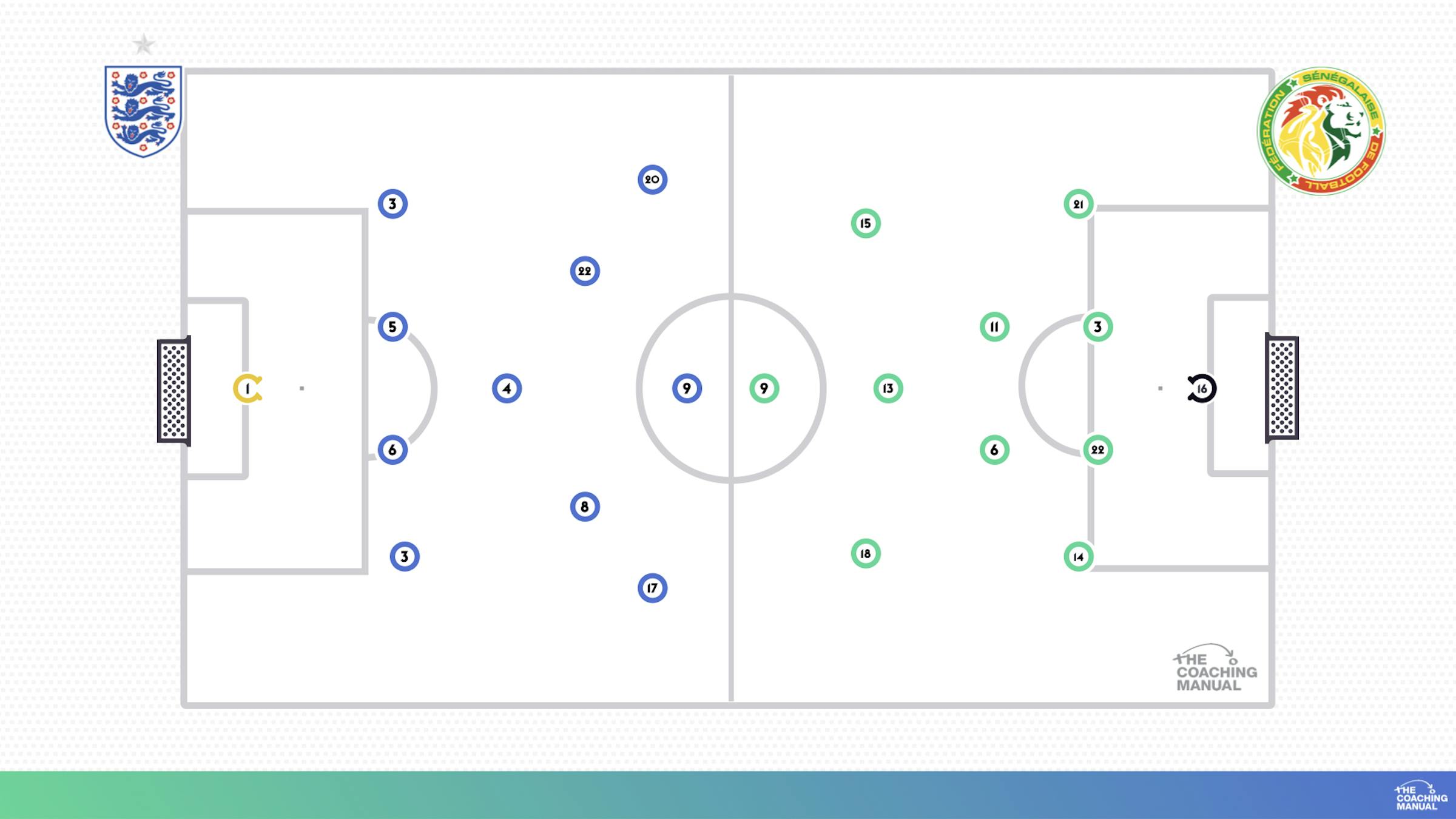 First Half Review
England's round-of-16 game came against a vibrant Senegal team who were looking to prove themselves in their first knockout stage appearance since their quarter-final appearance back in 2002. 
England looked to dominate possession in the early stages of the game with Senegal sitting in a mid-block and pressing at specific times, making it difficult for the 3 Lions. Though struggling to get into their rhythm, England had some good chances with the ball whistling across the goal twice - only for no one to be available in the box to convert. 
It took 22 minutes for the first real chance to be seen in the game, and it came from Senegal when Ismala couldn't convert a Dia deflected shot on goal. Another chance came from Senegal shortly afterwards when Dia forced a fantastic save from Pickford. England had been let off lightly, twice.
England looked to step it up, increasing the tempo of the passing. This paid off when Bellingham attacked the left wing and played a great cross to Henderson, who slotted it home for 1-0 in the 38th minute.
Kane had another great chance to make it to 2-0 but put the ball over the bar from 8 yards out. 
It was England that finished the half strongest with forward running and passing. A counter-attacking moment presented itself for England, with Bellingham travelling through the middle and passing to Foden - who slipped in Harry Kane to get his first goal of the tournament. 
Senegal would feel undone by going into the break 2-0 down. 
England's first goal came from an excellent piece of quick play through the thirds of the field. Check this session to work on your teams attacking through the thirds: https://app.thecoachingmanual.com/Session/93
Second Half Review 
England started the second as they finished the first: more on the front foot, and with a better pace in their passing and tempo. It wasn't long before England got on the score sheet again when Foden crossed in for Saka to slot home. 
Senegal had to put their foot down, looking to get back into the game as quickly as possible. But it was England who took the sting out of the game, which subsequently became a bit of a non-event and made it a comfortable victory in the end. 
England controlled the tempo of the game, knowing when not to get trapped, with quick combinations and switches. Use this practice by former England coach Steve McClaren to teach your players these principles: https://app.thecoachingmanual.com/Content/20747
Specific Strategy: Crossing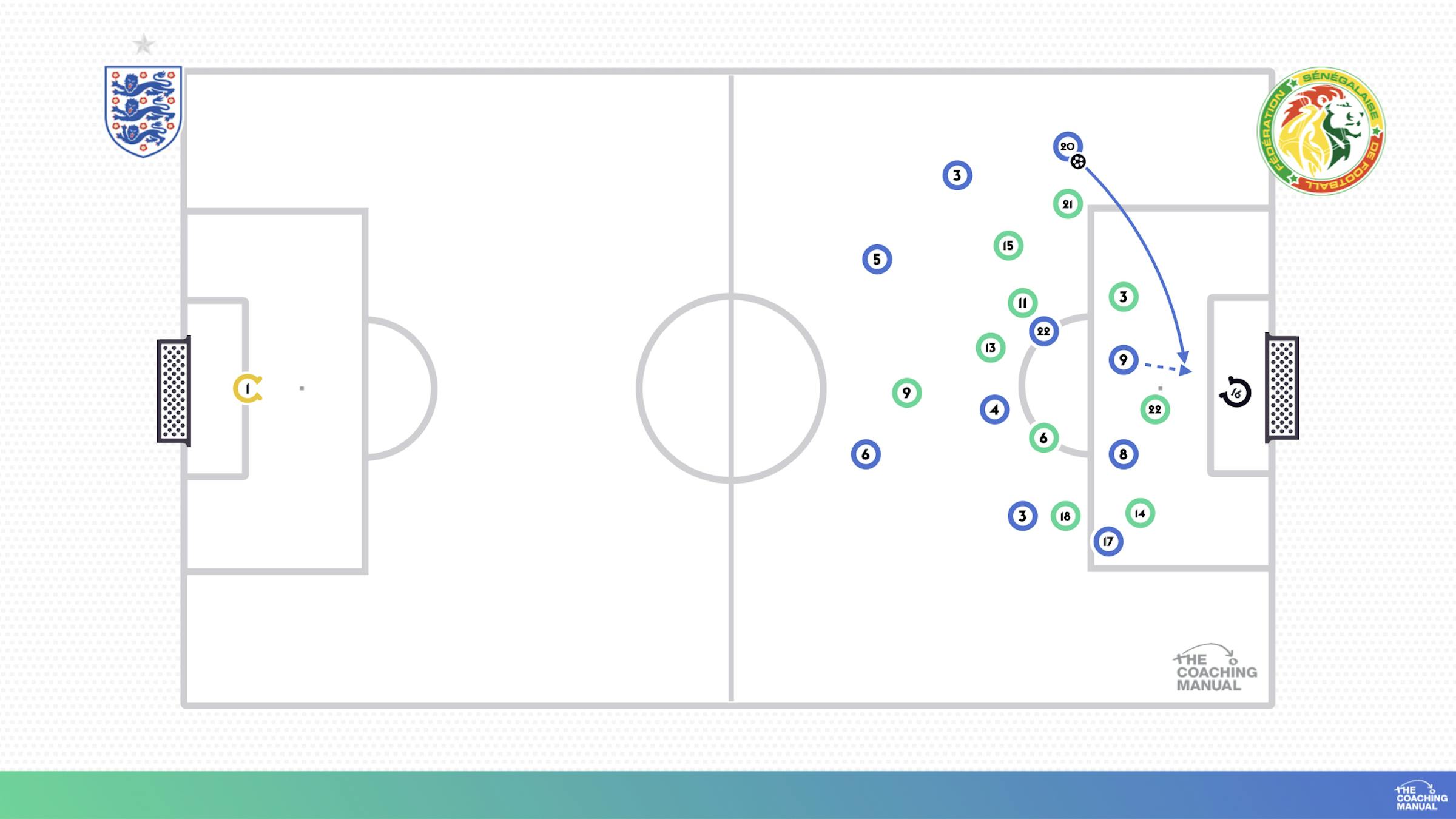 England completed more crosses than Senegal 15-10. This was a clear strategy from England, if they could get the ball out wide and crossed early, it would cause issues for the Senegalese. This was proven true, as 2 of England's goal was through crossing situations.
Check this session from Rene Meulensteen about attacking wide areas: https://app.thecoachingmanual.com/Content/22633
Transition to Defend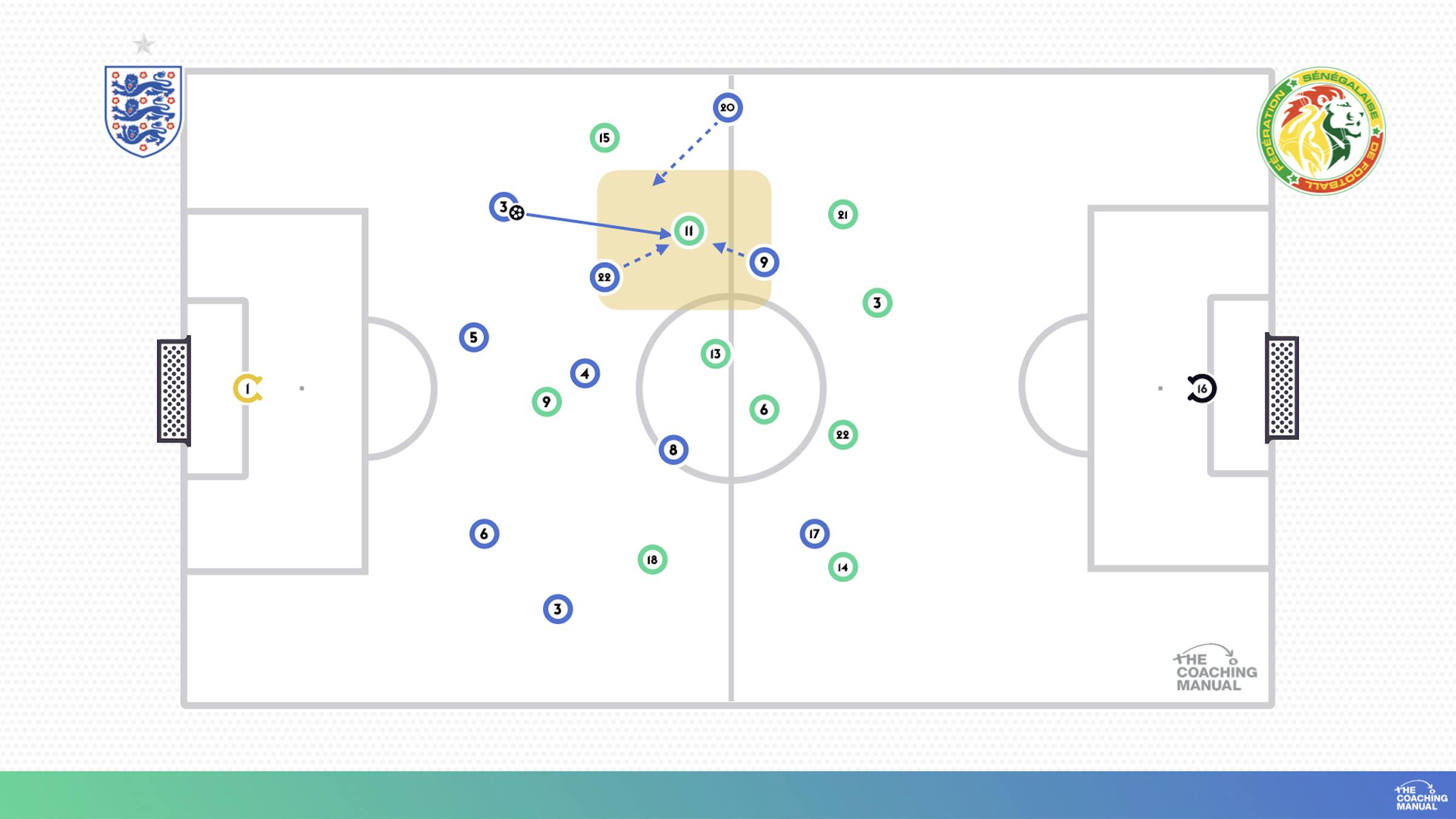 As well as the attacking talent on show, England's defending, especially in transition, is something to be heavily admired. England's PPDA (Passes Per Defensive Action) was 6.3 compared to 22.3. This means that England were very active in trying to win the ball back. 
Use this session by Rangers FC former coach Graeme Murty to teach players how to transition when defending: https://app.thecoachingmanual.com/Session/10262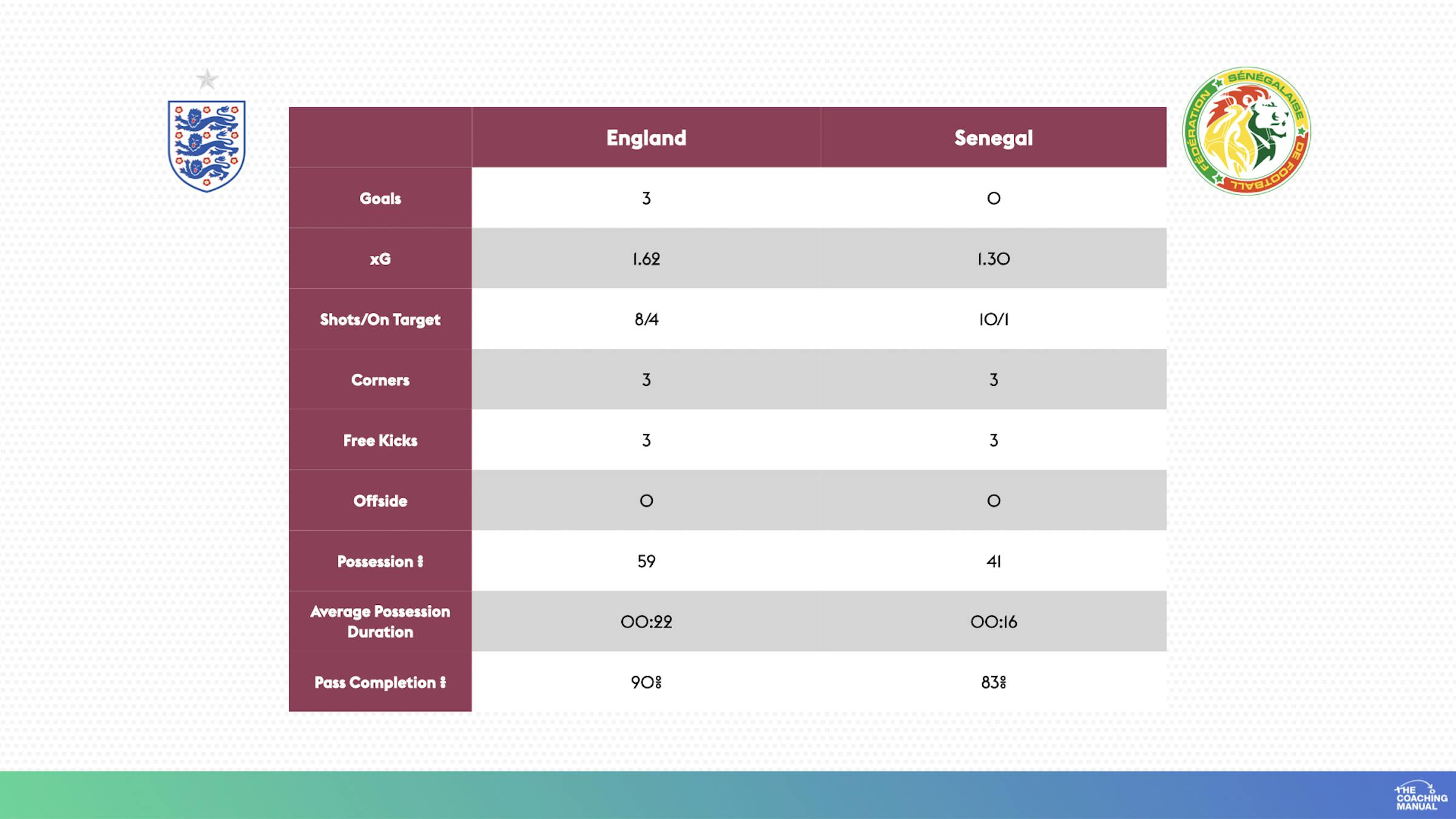 Next Game
England will play France in the Quarter Final on Saturday