The Coaching Manual is delighted to reveal the findings of a recent research project investigating the importance of Individual Development Plans (IDPs) communicated through mobile technology, and their impact on player performance.
Jake Gardner, a soccer coach and recent graduate from University Campus of Football Business (UCFB) in Manchester, conducted the research as part of his final-year dissertation project, in an effort to quantify the positive effect that IDPs can have on player development in the foundation phase.
He randomly split players into three groups:
No Individual Development Plans
Individual Development Plans
Individual Development Plans plus constructive coach feedback
Using the TopTekkers app, the players were given six different challenges, twice a week, based on the key technical elements of soccer including passing, ball mastery, dribbling, turning, finishing and ball control - they recorded their challenge scores into TopTekkers over a seven-week period. Group 1 just performed the challenges, Group 2 were given a weekly IDP in the TopTekkers app, while Group 3 were given the IDP as well as receiving coach feedback throughout the process.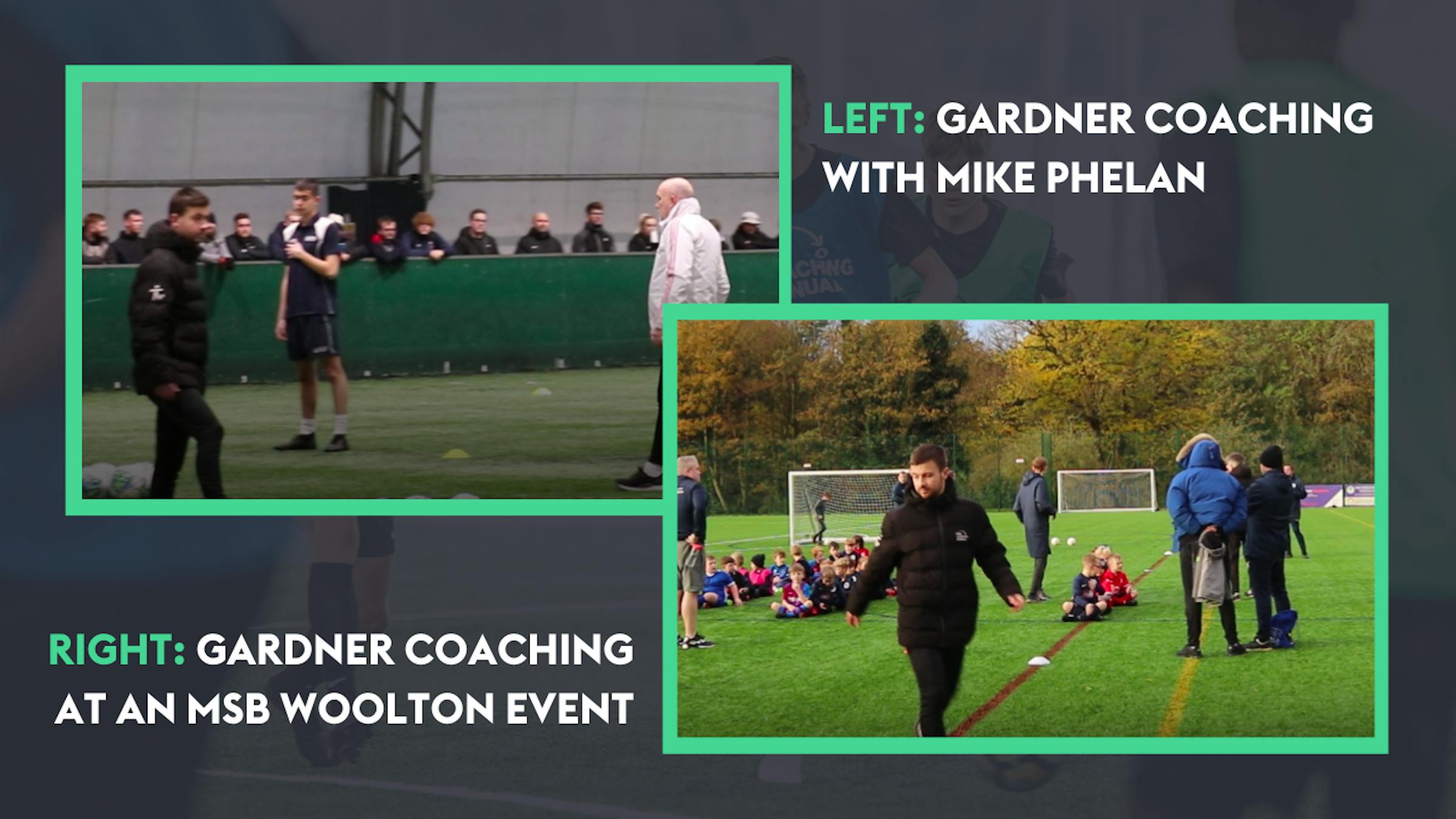 The research project is significant because not only has the use of IDPs increased across various domains including business, education, and sport, but the role of IDPs in football is currently questionable due to the lack of scientific literature on the topic. It has been said that IDPs play a part in a successful talent development environments including English Premier League Academies, but there is little or no empirical evidence to measure the success and the specific role it plays in player development.
Additionally, the study sought to highlight the role that technology has on players within a talent development environment and whether it has a positive or negative influence in general.
In recent years the demand for the use of digital learning for players and coaches has grown significantly, with coaches being encouraged to incorporate technology into their training and development programmes for players. Current foundation phase players are members of Generation Z which is suggested by researchers that technology has a significant impact on their lives in comparison to previous generations. In addition to this, Generation Z spend on average six hours a day on electronic devices such as video games, computers and on mobile phones.
A previous study recognised five reasons for previous generations to participate in sport with the main reason why they participated in sport was because they 'enjoyed' playing the sport with the 4th reason was self-improvement at that sport or acquiring a skill to apply within the sport. However, in recent years it has been found that Generation Z youth players were not seeing fun as enjoyment from the sport, instead, the players have defined it as improving themselves as an athlete, ultimately increasing the competitiveness of the players and them being more obsessive of advancing to better levels of training.
The Results
Improvement Rate of The Average Score on Week 2 to The Average Score on Week 7
Group 1 - No IDP: +24% 
Group 2 - IDP: +36.11% 
Group 3 - IDP plus coach feedback: +53.33%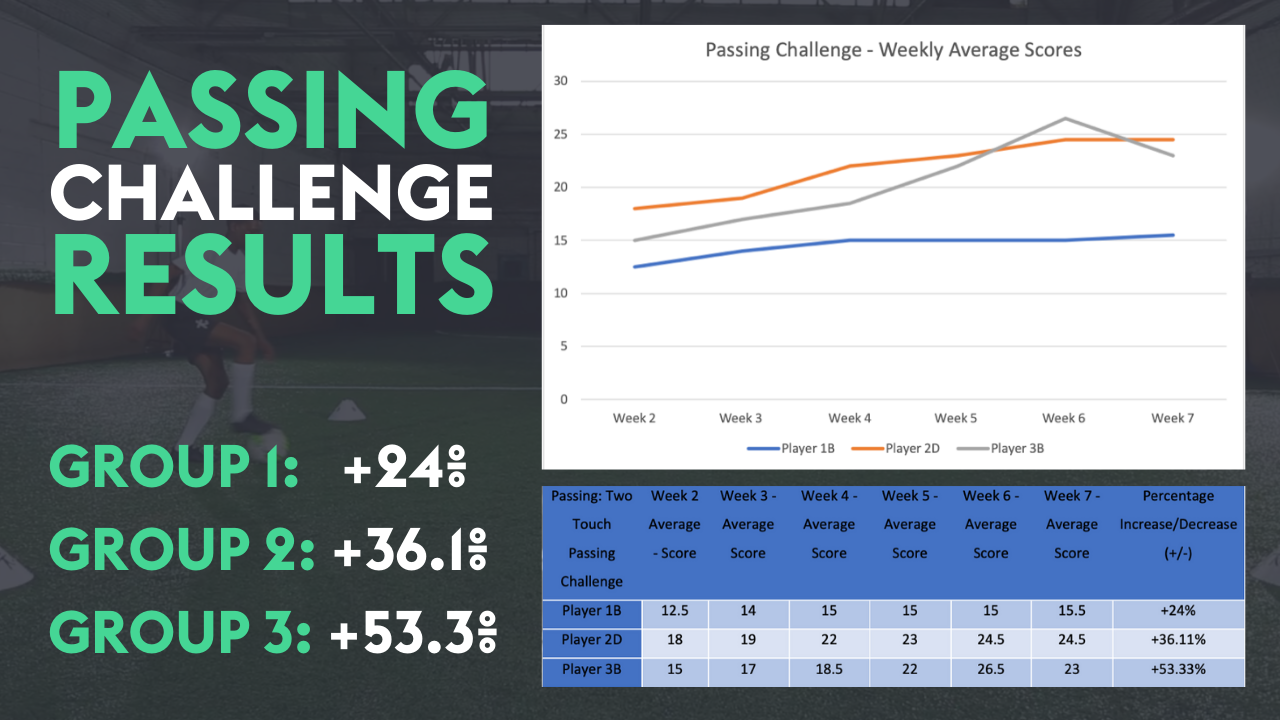 This data suggests that the IDPs have had a positive influence in the data, showing that from Week 2 to Week 7 the score has increased 36.11% for Group 2 and 53.33% in Group 3. Significantly however, all groups improved, with the study reinforcing the notion that 'practice makes perfect' as well as proving the efficacy of Individual Development Plans.
A more in-depth look at some of the results from Group 3 (who were given IDPs as well as regular coach feedback) shows a steady, consistent improvement in scores over the seven week period - as seen below in the Ball Mastery challenge results.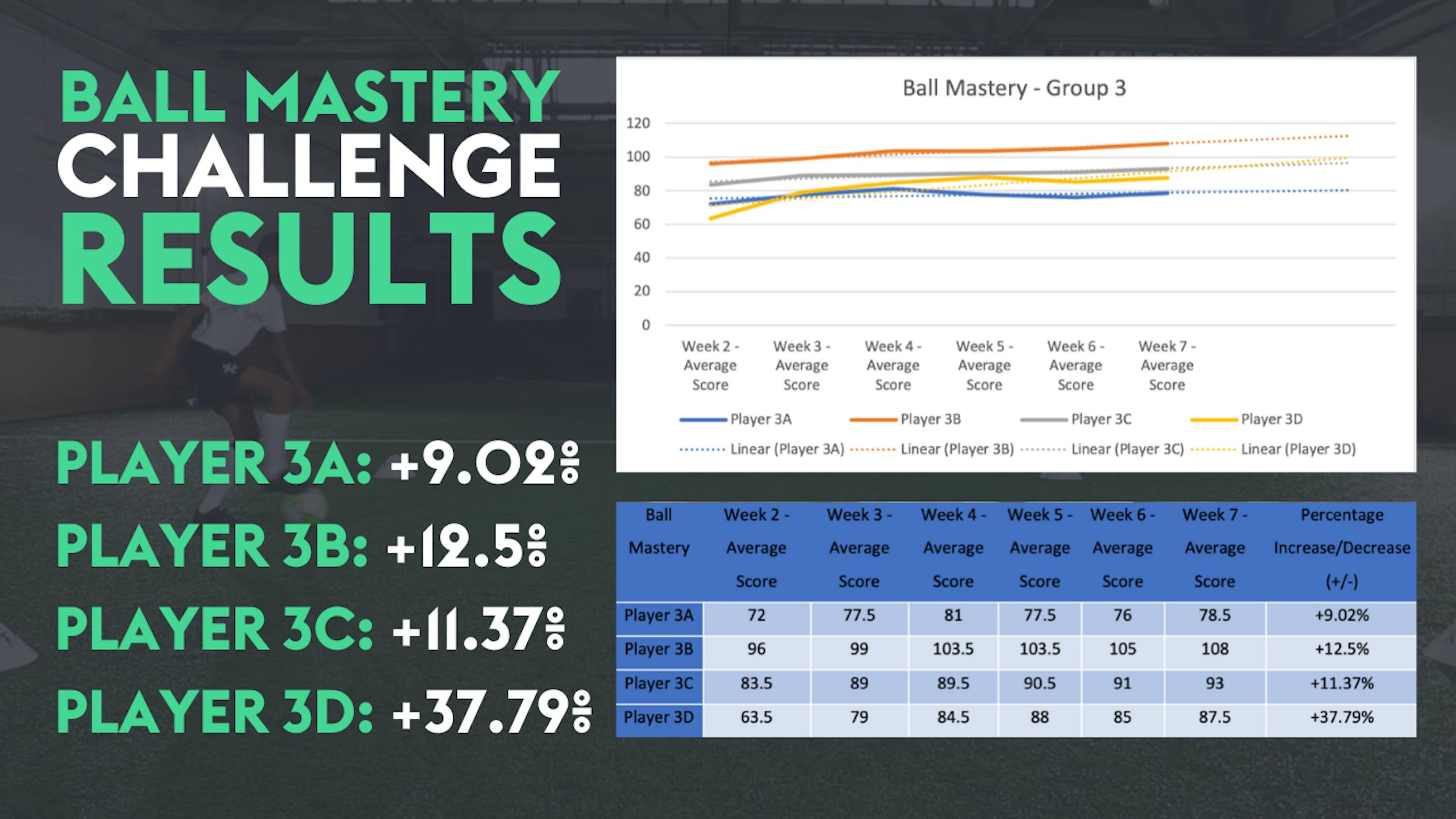 Jake Gardner's study concluded that Individual Development plans do have some impact on the progress of young players in the foundation phase (5-12 years old). Exactly how much influence remains to be seen, but coaches can certainly help their players by setting Individual Development Plans where applicable.
How can I use these findings to benefit MY players?
It is one thing to prove that Individual Development Plans contribute to the success and progression of young football players, but it is another to be able to plan, devise, and set IDPs for every one of your players. Most coaches, particularly those working in the grassroots game or on a voluntary basis, simply do not have the time to assess each player's strengths, weaknesses, goals, and targets, devise an IDP that suits their needs, and provide regular assessments and feedback to monitor their progress and development.
That's where The Coaching Manual and TopTekkers can help.
As well as full-sided and group practice training sessions, did you know that The Coaching Manual is also packed full of player content? From 1-to-1 drills they can do at home, to informative infographics that can encourage good habits, there's a whole library of content on The Coaching Manual designed to help players improve.
And did you know that using The Coaching Manual is made even more beneficial when your players have access? With club tools organisational allowing you to curate your own library of player education content, and the ability to share your sessions ahead of time, using The Coaching Manual to develop your players away from the training pitch could change the way you coach forever.
Of course, TCM allows you to share with your players the training session you will be putting on ahead of time, but with our player-specific resources you will also be able to ensure your players are in the best condition - both technically and physically - when they turn up for training or on matchdays.
Below is just a small sample of the content you will have at your disposal with a Premium account, including guides, infographics, articles, video content, drills, and more:
Learning the game resources including:
Fitness content including:
Skills training including:
But of course, even with The Coaching Manual's wealth of individual player development content at your disposal, and the organisational tools required to make IDPs shareable for your players, coaches would still have to know the requirements of each individual player to distribute IDPs for each player.
That's where TopTekkers comes in.
How can TopTekkers help me set Individual Development Plans for my players?
To build a learning plan for any individual child, log in to your account and navigate to 'My Teams'. Scroll to the team that the player is part of and select 'players'. From the list of players shown, select the player you want to assign individual tasks to and then 'add tasks'. It's as simple as that.
You can then monitor their progress with each individual task through your coach's account. From here you will be able to see how often they are practising the skills, how quickly they are improving, where they are excelling, and where they are struggling. At the touch of a button you can adjust their plans to suit their progress, and alter your approach during on-field training sessions.
TopTekkers is ideal for Generation Z players. As we discussed previously, this generation's up-and-coming players are motivated by the prospect of improving their technical performance, and with TopTekkers, the challenges are enjoyable and engaging, making it intrinsically motivating for them to beat their last score. Much like the apps and devices that they already thrive on, this app presents children with a game where the opponent is themselves. It's the best of both worlds - enjoyment and improvement.
TopTekkers gives you the invaluable player data you need to take your team forward, and it's free to get started as a coach - simply download the app and add your players. They'll be able to try TopTekkers for free and unlock up to five skills, but will have to pay for a full subscription to fully benefit from the world's best player development app.
To learn more about club packages for all the players in your team, allowing you to hit the ground running with TopTekkers, get in touch today by emailing our team on sales@thecoachingmanual.com