Thanks once again to everyone who has been in touch to tell their TCM story. In this instalment of 'My TCM', we spoke with Christian Jackson of JSSL Singapore.
Christian, originally from the UK, has a wealth of coaching experience and has quite a well-rounded background in the sport.
He said: "I started coaching at the age of 16 working for a football coaching company called JR Sports in Grimsby, whilst I was studying my BTEC Level 3 Diploma in Sport at Grimsby College. I then went to Southampton Solent University where I studied BA Football Studies. Whilst there I also worked for Southampton FC.
"It was a fantastic experience working with incredible youth development coaches and to have the opportunity to observe academy sessions. Alongside my University course and coaching role at Southampton FC, I worked for Premier Coaches, where I had the chance to work on a number of cruise liners around Europe teaching multi sports to the children onboard.
"During the summer breaks I went to Arizona, in the USA, to coach football. This was an exceptional opportunity to work and experience a new culture and to work with players and coaches from a different country. After leaving university I began working in Kuwait for Arsenal Soccer School. This for me was an extraordinary experience for not only coaching football but also life experience.
"In my second year working in Kuwait I worked for the Juventus Academy which provided me with the chance to live and work with Italian coaches and also to understand the Juventus coaching methodology, which was a different way of coaching that I have coached previously, but one that I enjoyed immensely.
"At the start of 2018 I then got offered a chance to work for Brisbane Roar as Pre-Academy manager. I predominately worked with U8-U12 players as well as U13-U16 players that could potentially be later developers and could enter the full time academy at a later date. After my time at Brisbane, I then returned home to the UK to complete a Masters Degree in Performance Football Coaching at St Mary's University, Twickenham. Alongside this, I was coaching for Grimsby Town in the Foundation Phase.
"After finishing my studies I then got offered to work for JSSL Singapore as a head coach. After being here now little over a year I am now the Assistant Director of Coaching."
JSSL is Singapore's Premier Youth Football Club & League Provider, with a number of fantastic teams and players under their umbrella. Christian said: "As Singapore's Premier Youth Football Club & League Provider, we offer young boys and girls the opportunity to explore football at all levels. JSSL's vision is to revolutionise youth football in Singapore with the most professional football clubs, the most encompassing youth leagues, and Asia's largest youth football tournament. In recent times, our players have gone on to play professionally in Europe and Asia as well as playing on the international stage."
Wow, quite the coaching education! And The Coaching Manual has been a big part of Christian's journey for many of those years.
He added: "I first heard and got introduced to the The Coaching Manual in 2013 when I began coaching at Southampton FC. As Southampton had a partnership with The Coaching Manual we were advised from the club to look at the sessions and content that TCM provided, and that helped me tremendously as a young coach at the time with regards to learning and seeing high quality sessions.
"The Coaching Manual has helped me a lot in my coaching journey! As previously mentioned, having the opportunity and access to watch expert practitioners within youth development certainly helped me improve as a coach. I have taken so many sessions away from the TCM over the years, and still do to this day, but I also learnt a lot from observing the environment the coaches create and how they communicate and interact with their players.
"Anthony Limbrick is one coach I looked up to, and now I'm very fortunate to have him as a coaching mentor in my own journey. Also, during these unprecedented times and working abroad - which at times can be difficult - to continue with your own personal coach development, the new TCM Level 1 Certificate has been a brilliant experience and one from which I have taken a lot away. From the course instructors to the guest speakers in attendance, I cannot recommend this course enough for any coaches who are looking for some further education.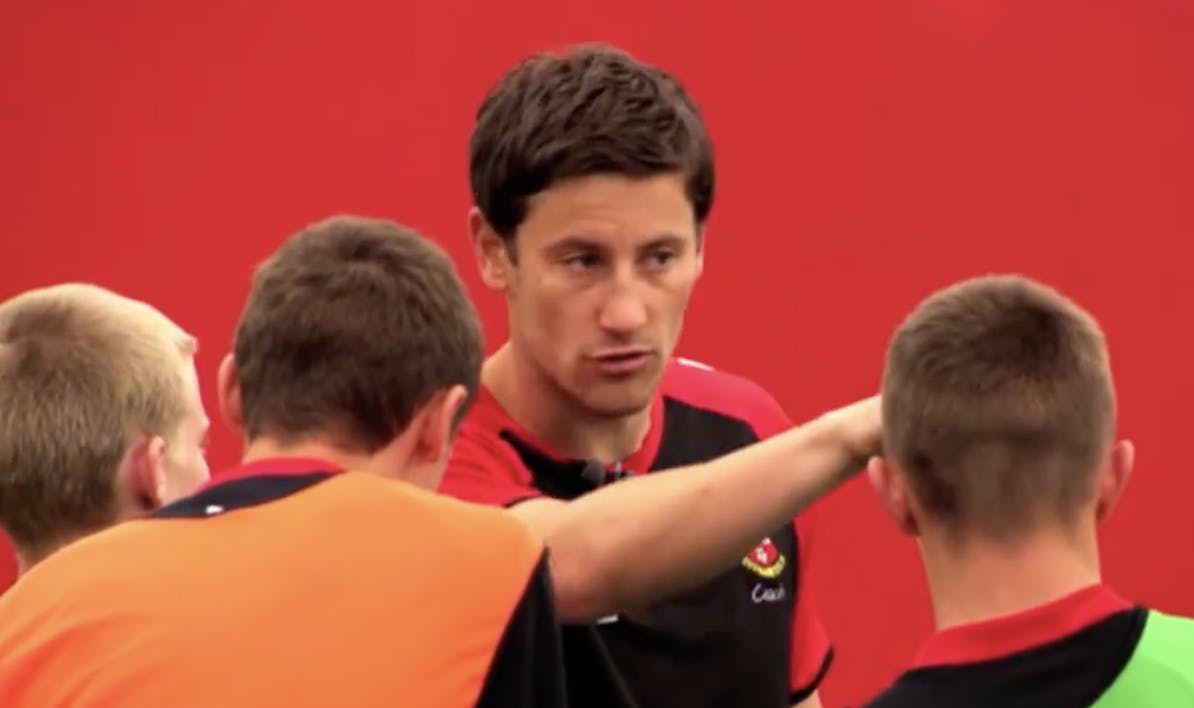 (Above: Anthony Limbrick) You can view content from Anthony Limbrick on The Coaching Manual here.
"There are many great features that TCM have created over the years. The feature I use most from TCM is the simple session planning tool. I have used this for the last couple of years and it has been great for me in terms of being able to print the session plans out, but more importantly having storage and a folder for the session plans I create meaning I can easily access them later. The Infographics have been a great feature that I have used regularly within my teams over the years as well, especially the nutrition and the injury prevention ones. The way they are designed are great for the kids and even parents to help understand.
As well as personally using and advocating for The Coaching Manual over the years, Christian is now part of an organisational partnership with The Coaching Manual through JSSL Singapore.
Christian added: "We at JSSL have partnered with The Coaching Manual so that all of our coaches are able to access the brilliant content that TCM provides. This helps our coaches with session planning in terms of being able to explore many sessions and ideas for them to takeaway and use within their teams, based around our club coaching philosophy.
On the platform supporting his own coaching journey through the difficulties that 2020 has provided, Christian also said: "The Coaching Manual has been a fantastic resource for my own education during the COVID-19 pandemic. Firstly, the TCM Level 1 Certificate has been a brilliant course to be a part of, and I hope more will be introduced in the future. Also, the webinars that were put on during Covid were first class with a great range of speakers and topics discussed."
You can learn more about JSSL here.
If you would like to share your TCM story, and be featured on our blog, click here.