AFC Alsager is a 100% voluntary, community football club based in Cheshire, England, that has grown year on year since its inception almost 10 years ago.
The club boasts 21 teams ranging from under 8's to their senior side, who have climbed their way through the FA pyramid system to Step 7 - one step away from the National League. It is an achievement of which the club is understandably proud. AFC Alsager is also proud of its recognised pathway to senior football, from their various age groups right the way into Adult football with their u18s and Adult development sides. As Club Chairman Lincoln Durose states on the club website: "Our focus is to continue to grow the football club to provide as many opportunities, as possible, for the young people of our community through the medium of football."
Recently, AFC Alsager has taken up a club package with The Coaching Manual, in order to further the development of their coaching staff, support their players, and instil a healthy philosophy throughout the whole set-up. In the year that they celebrate their first decade milestone, we take a look at the club, meet some of the coaches, and find out how The Coaching Manual is supporting their growth and continued success.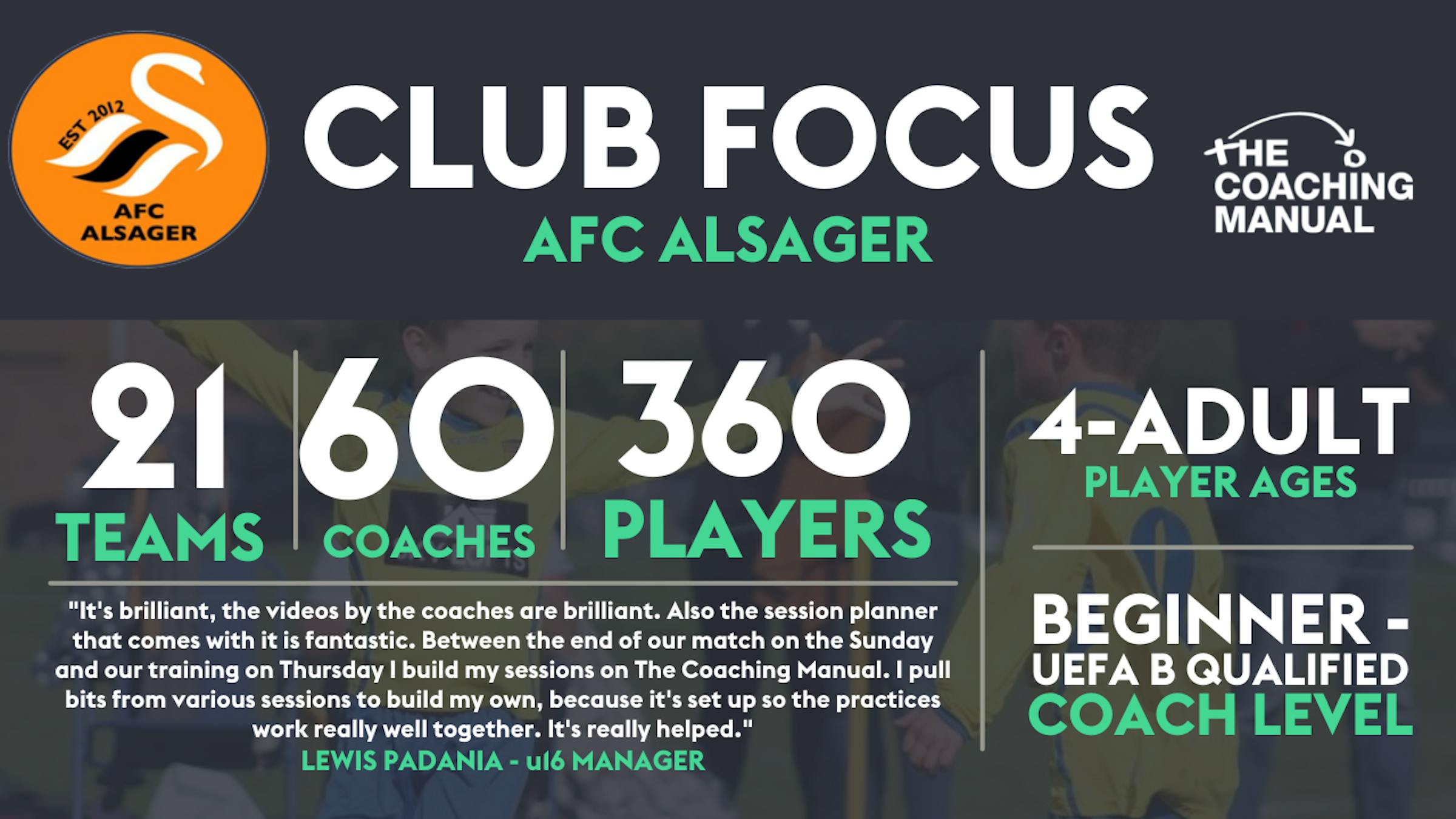 It was a mild Autumn Wednesday evening when we turned up to see a number of AFC Alsager's junior teams holding their weekly training session, and the considerably-sized facilities at The Alsager Sports Hub were packed with children of all ages, with parents lining up along the full sideline perimeter. Coaches interacted with parents and players alike in a manner that was certainly befitting of the club's 'community' label.
The Swans has around 60 volunteer coaches dedicating time and effort to help develop the club's 360 players, with experience levels ranging from beginner to UEFA B Licence holders. We spoke to one of the more time-served coaches, Lewis Padania, who looks after Alsager's under 16s team.
He said: "I started at Alsager on Saturday mornings with the little ones. I then moved to another club to work with my brother's team, where I was getting used to the more tactical side of the game, then I came back to Alsager where I've been for the last five or six years, coaching the u16 team."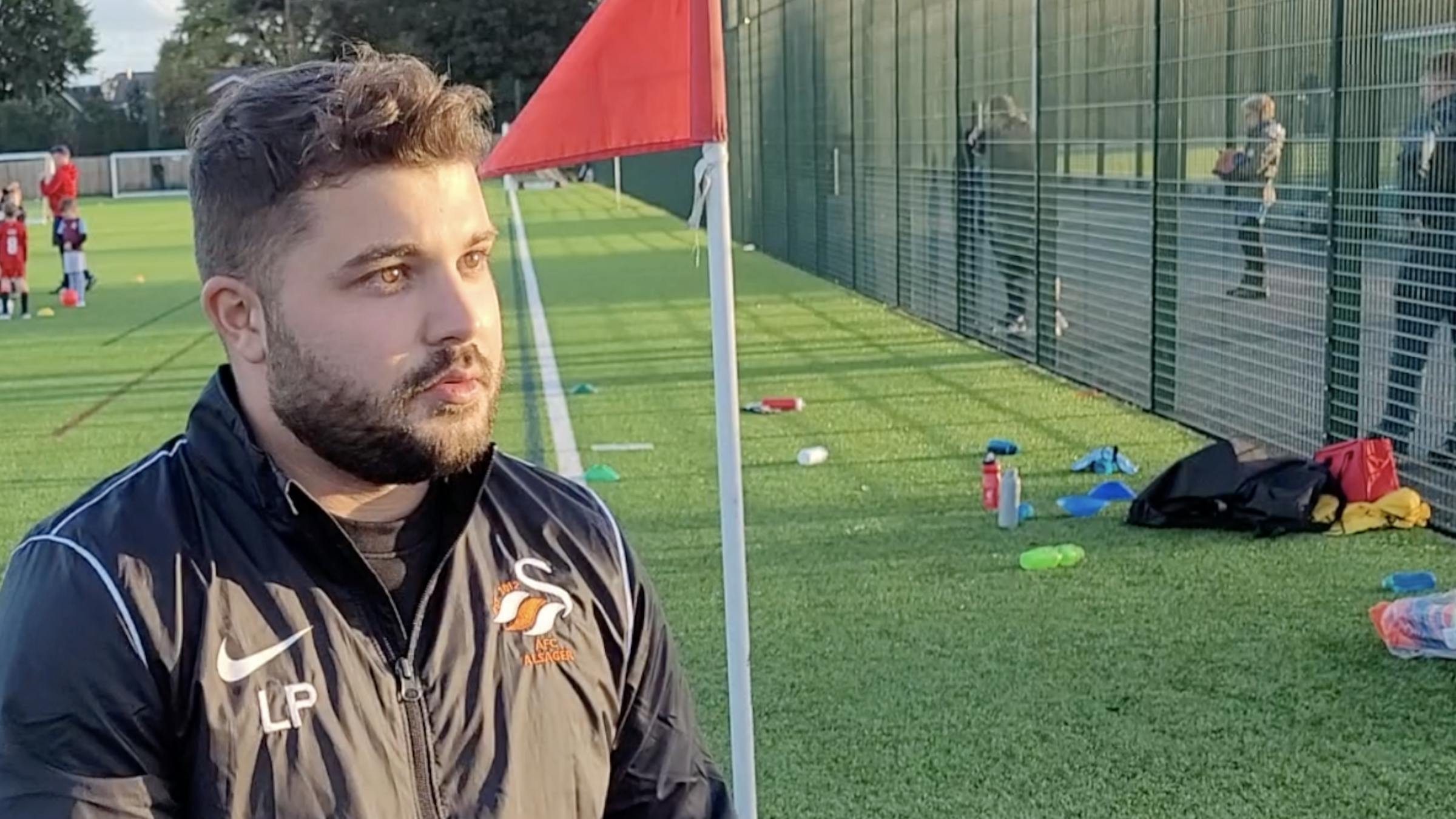 Lewis has spent time recently getting to grips with The Coaching Manual platform and is happy with the way it helps him in his role. He added: "It's brilliant, the videos by the coaches are brilliant. Also the session planner that comes with it is fantastic. Between the end of our match on the Sunday and our training on Thursday I build my sessions on The Coaching Manual. I pull bits from various sessions to build my own, because it's set up so the practices work really well together. It's really helped.
"I've been using The Coaching Manual for about a year now and it's been really useful as our under-16s are getting more into the adult side of the game - thinking with their heads rather than just with their feet. They've got to learn how to play the game tactically."
As well as helping experienced coaches, The Coaching Manual has been a big help for coaches who are completely new to the role. David Cartlidge has taken up a coaching role at AFC Alsager, looking after the new u9 Wildcats team that was created as part of the club's community expansion. We caught David at just his third training session with the team.
"I've been coaching about three months", he said, "We only set up the Wildcats team in the middle of August. It's brilliant, they're loving it so far. They're really passionate, and they've got no fear. They've been brilliant."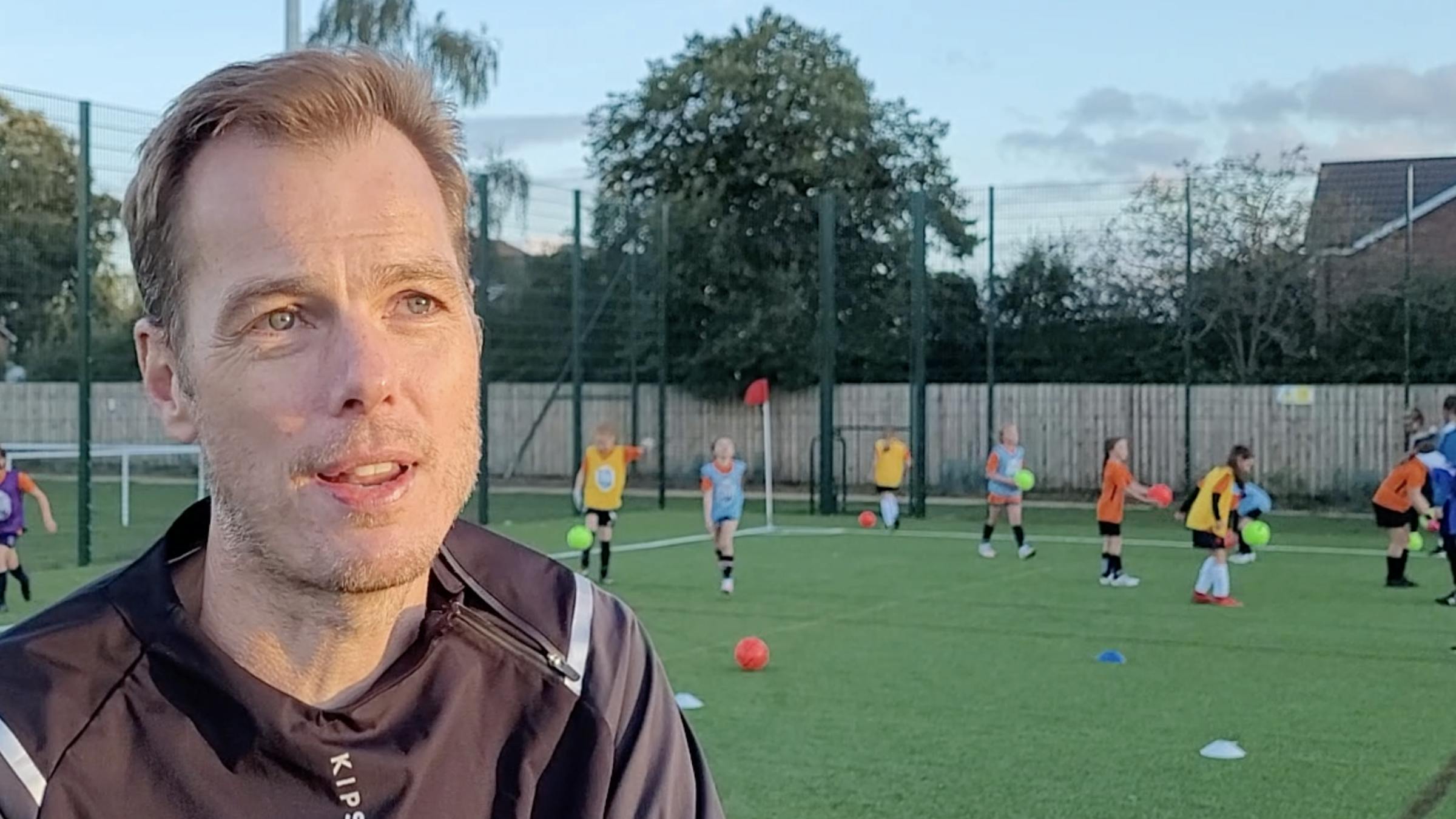 The u9 Wildcats team is made up of girls who have been attending the affiliated Wildcats Centre, a non-competitive football program for girls who want to give the sport a go for the very first time. The team is part of the club's continued expansion, and represents another community demographic they are able to support.
David added: "Because they've come from the Wildcats sessions, a lot of them are used to playing, for a year or so, in large groups, so when they've come into a team they've just hit the ground running."
As enthusiastic as his players are, their first game was something of a challenge for new coach David. He said: "There were a few nerves to start with, they didn't know the basics, like who the ref was, how to take a throw-in, that kick-off was from the middle of the pitch... some of them did, but most of them didn't, so it was a crash course in football. But it was about positivity, it wasn't about winning, and the goals didn't matter at all."
A baptism of fire for David as he begins his coaching journey, then! Taking your first training session with a group of young players is daunting for any new coach, so how did The Coaching Manual help David with his first session?
He said: "I searched through The Coaching Manual to find sessions. I decided I wanted to focus on passing - for me that's the core, passing and ball skills - I looked through the content and the sessions on TCM, there are loads there. I found some that were simple enough for the players who had never actually done anything technical like that before, and then I just cut and pasted them using the Session Plan tool. I then shared it with the other coaches, we came down to the training pitch, and followed it.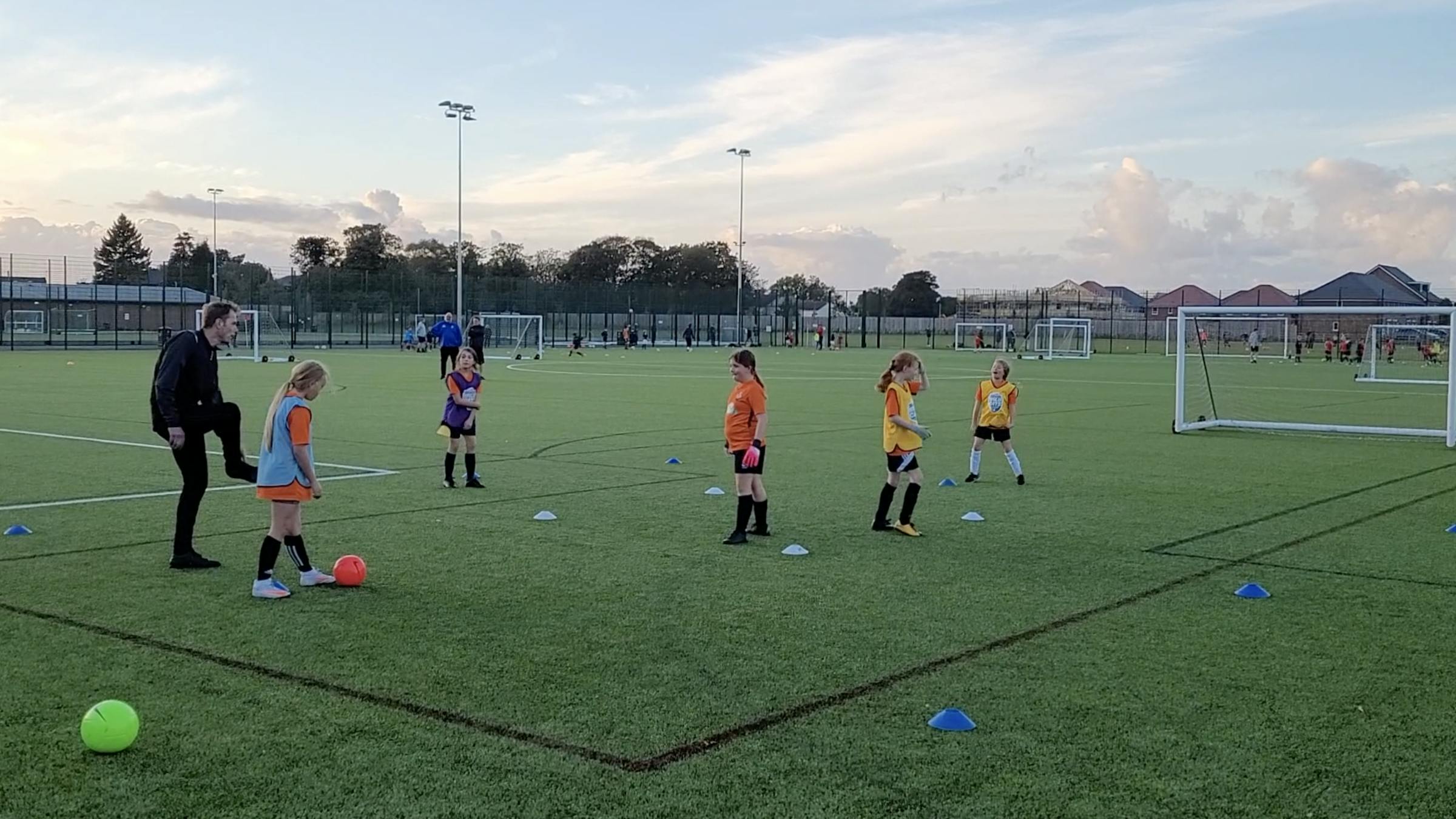 "The videos on The Coaching Manual are really useful. They explain what they're going to do, then the camera shows the session - you listen to what the coach is saying, when they choose to step in, then they come back and give an overview of what they did and why. For me, as a brand new coach, that is invaluable. That's the hardest thing for me - when to step back and look, when to adjust it - sometimes that's a bit difficult when you've got no experience. So to see the coaches on TCM doing that, and saying why they're changing things, is really useful.
"In next week's session we're going to start introducing positions, so I'll be back onto The Coaching Manual."
The Coaching Manual's Relationship Manager Mike Cross also coaches at the club, looking after the under-10s team, as well as being the club's Foundation Lead. He said: "I was using The Coaching Manual with my team for a while before joining the TCM team myself. The platform not only helps individuals improve as coaches, save time, and run better training sessions, it also helps clubs communicate their coaching philosophies, allowing them to move efficiently towards their goals. Here at Alsager, The Coaching Manual is helping us not only to expand our offering, but improve the way in which we nurture talent, so we can better serve our community."As we hit the milestone of 10 years since the club was founded, Alsager has come such a long way and with the help of The Coaching Manual, as well as our dedicated volunteers and enthusiastic players, we can go even further"
The club has been awarded (and retained) the FA Community Charter Standard Accreditation, an award only awarded to those clubs who are proud to provide places where people, of all ability, want to participate and enjoy grassroots football. Clubs that achieve FA Charter Standard prioritise a high standard of qualified coaches and safeguarding as well as the values of the FA's Respect programme as part of their game.
The club itself holds a number of important values that form the basis of their community-serving raison d'être, including:
We want to build a club that sees continuous improvement, better standards of football being maintained and a higher retention of players than any other local club
For young players with experience we offer the opportunity to take part in regular football team play and become the best players they can be
For parents of young players we offer tools for them to support their children and in doing so develop their own role in football
For those who want to coach we offer a structured and funded way of obtaining qualifications whilst contributing to the club's development
We think that AFC Alsager is greater than the sum of its parts: it can be a force for good for the whole local community. Whether by giving young people a place to go and positive things to do or helping build bridges within different parts of the community, young and old, we have something that Alsager will be proud of
As a proponent of proper development for both coaches and players, as well as the importance of sport in the community, The Coaching Manual shares a lot of common values with AFC Alsager, and that's why we see the partnership between the two entities as a very appropriate and synergetic fit, that is sure to bear even more fruits in the form of on-and-off-the-pitch success throughout the coming years.
To learn more about AFC Alsager, visit their website here.
To learn more about The Coaching Manual club packages, contact our sales team by emailing sales@thecoachingmanual.com.
Or, for individual coaches, get access to The Coaching Manual and support your players with a Premium subscription, and you will get:
Our LMA Masterclass series featuring sessions from David Moyes, Rene Meulensteen, Alan Irvine, Steve McClaren, and more
Access to 100s of other exclusive sessions
Full access to our session creation and season planning tools
The same coaching content used by the Professional Footballers' Association
Coaching Focus Web Series (Seasons 1 & 2)
For the equivalent of just £5 ($7) a month when you pay annually, sign up and start taking advantage of all that The Coaching Manual has to offer today! Sign Up here!