In this article, we take a look at the fantastic 'masterclass' series available exclusively to The Coaching Manual Premium subscribers, as part of our partnership with the League Managers Association (LMA).
We recently added Alan Irvine's Attacking Quickly Masterclass to our platform, and wanted to take this opportunity to shine a light on the other sessions in the series - speaking to our Head of Content Lee Fletcher about why these sessions are so useful for coaches at all levels.
Each session features drills, practices, conditioned games, and exclusive interviews, all giving detailed insights onto the inner workings of some of the most highly-respected coaches in the game.
Lee Fletcher said: "These LMA practices, sessions, and interviews on The Coaching Manual give our subscribers a unique insight into the training sessions and ideas of some of the best coaches in the game. The sessions are based around the real game, allowing players to take these ideas in match situations."
The masterclass sessions on TCM are packaged in a digestible and easy-to-interpret way, but they also feature raw, unedited interactions with players, on-the-spot coaching points, and other examples of interactions that allow TCM subscribers to understand the decisions each coach makes, and how they communicate their ideas to their players.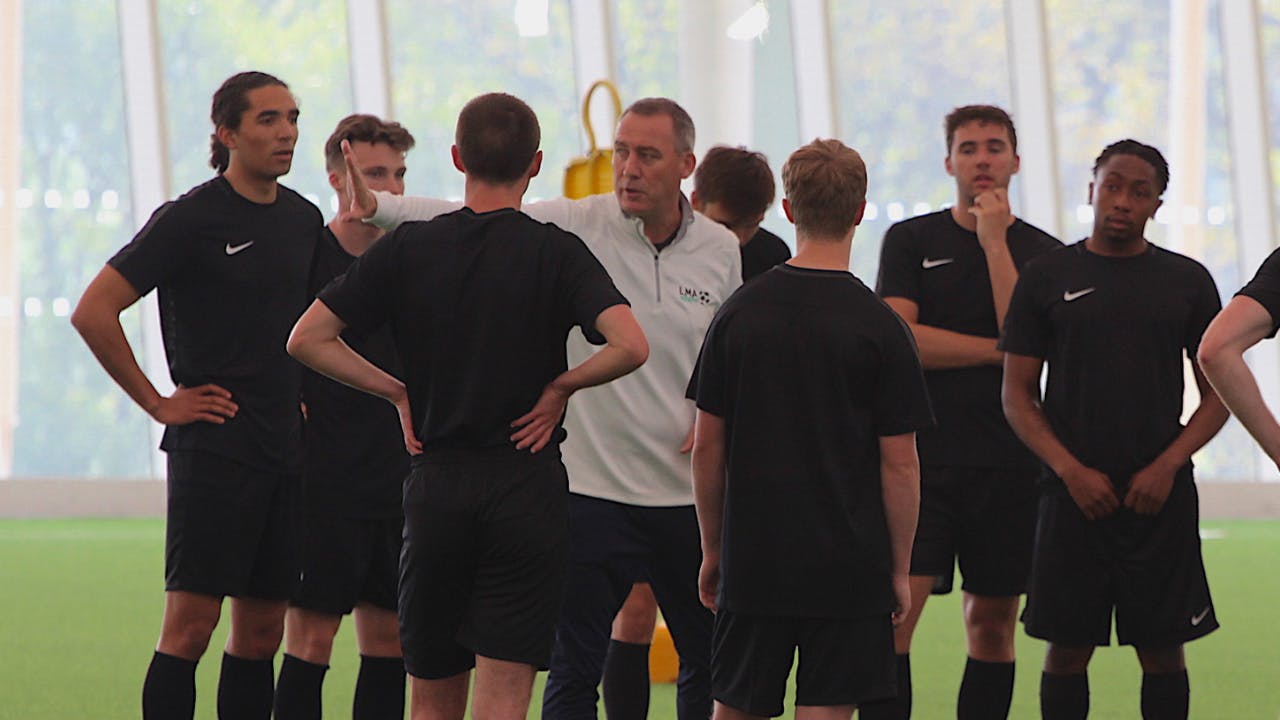 Lee added: "First and foremost, what I love about the coaches is their attitude and their ability to relate to the players on a personal level. The coaches have such great knowledge and it is great seeing them demonstrate that on the field. For me this is a fly-on-the-wall situation, where we get that unique insight into the coaches' delivery, detail, and demonstration of how they want to play and also set up a team."
Naturally, the recorded sessions are each delivered to a specific age group, but are easily adapted to whichever age range of players you are coaching. Lee continued: "One of the great things about the LMA content is that it is looking it from an 11v11 game format. This makes it unique as we, as coaches, can scale it back to the format we are coaching - whether that be 9v9 grassroots football or dealing with Academy players of the game of 8 years old. With a little planning, this makes the content very adaptable and something you can coach across all age groups. 
"For example, I have delivered the Rene Meulensteen session to a group of 10 year olds and adapted it accordingly to their level and age. "
The sessions are also delivered in such a way that means you can either utilise the whole session in your coaching strategy, or use individual sections for inspiration to build your own sessions.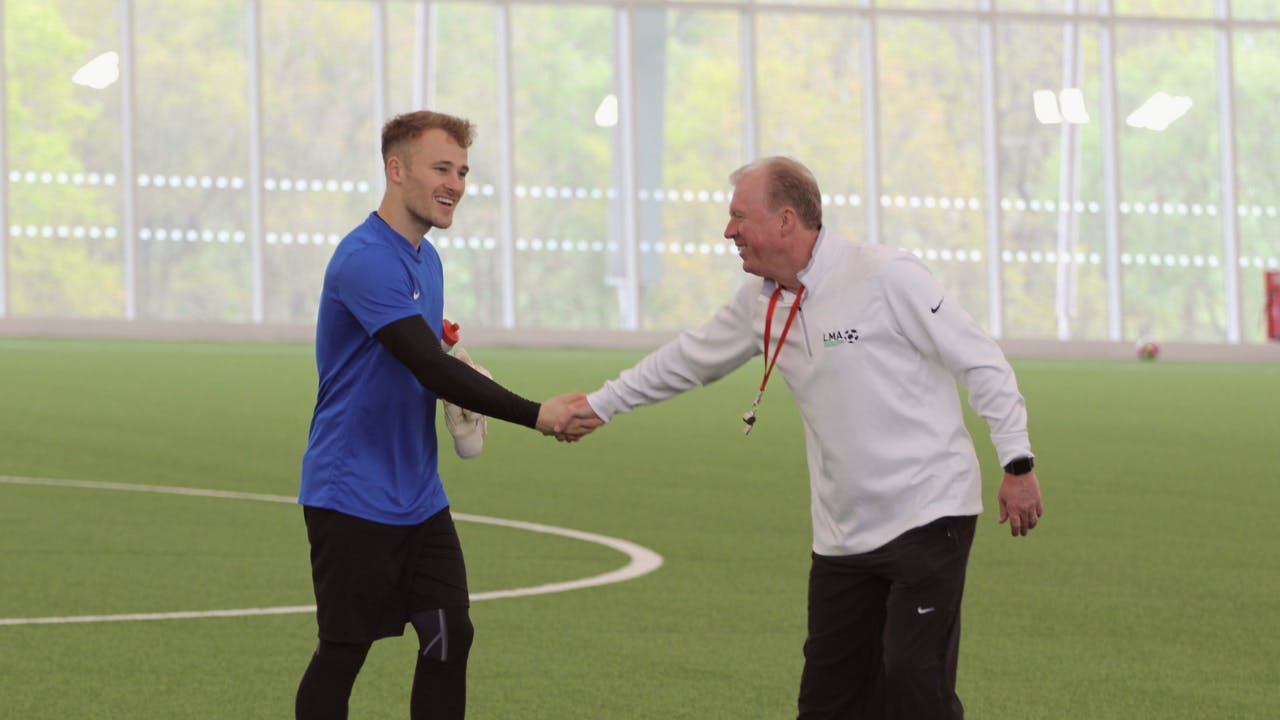 Lee said: "If you feel that the sessions may not suit your players, then you can pull out bits of information on the LMA content to develop your own sessions or find other content on The Coaching Manual that is related to that. A great example of this is the Alan Irvine coaching point of attacking overloads, around 2v1. That is multiple sessions within itself and I have delivered that point on a variety of attacking practices."
The sessions
We asked Lee to provide a short summary of what he likes about each of our LMA sessions, here's what he had to say:
David Moyes - "David Moyes's pressing session is excellent. I think the way he breaks it down to make it very simple for players is fantastic. One thing I loved about this session the most is that he is setting the scene for attitude first rather than the tactics behind it, which for me is the most important - you can't coach the tactics without the attitude." 
Mark Warburton - "Mark Warburton's session is very a 'Spanish' session, looking for quick combination passing through teams. It is probably the most challenging for players to participate in because it is one that requires a lot of technique as well as excellent decision making. But that is what makes it such a good session, because of detail Mark gives but also the adaptability of it."
Steve McClaren - "Arguably one of my favourite sessions on The Coaching Manual, Steve McClaren's enthusiasm and detail is unbelievable, with a blueprint in how to play out from the back whilst facing different challenges, his energy just makes you want to get out on the field to coach." 
Dean Smith - "The layering of the practices from Dean Smith is top notch. The beauty of this session is that you can go back to it and deliver it over and over again and build a full playing structure for a season around this one session." 
Rene Meulensteen - "What I love the most about Rene's session is its adaptability for any age. I have delivered this with 10 year old academy players and an open-age grassroots team and they both equally loved it - that is the beauty of a good session: its flexibility." 
Gary Rowett - "Gary Rowett's ability to connect with players is clear to see in this session. He is always joking and positive with the players but when it comes down to standards and the quality of play he is on them to perform better. This is everything in a coach, the understanding of when you set the scene but raise the quality when needed, not to mention this is a session any player would want to play in." 
Chris Hughton - "I love Chris's tempo in this session. He is always demanding more from the players and treats them as professionals in a positive manner. Chris is meticulously planned, down to the number of cones and allows the players to express themselves without making it a 'stop, start' session." 
Alan Irvine - "Alan's detail is basically a journey through football. In these 3 practices, I genuinely believe you could create a full year's curriculum just by using the coaching points, as well as full coaching development plan in terms of his manner, coaching positions and coaching points."
Get access!
To get access to all these fantastic sessions and more, sign up for a TCM Premium account here.