1. Defending Outnumbered/Out of Balance
During transitions and when being counter-attacked, teams will often be outnumbered and out of shape when defending. To improve defending in these situations coaches must teach players how to isolate the attackers as well as delay the attack to allow their teammates to recover.
Check out these sessions so you can coach your players on how to defend better in these moments and in turn stop the opposing teams from scoring goals.
Defending Out of Balance (13+)
Defending Out of Balance (5-12)
2. Defending as a unit
Staying compact out of possession is so important when defending as a unit. Coaching your players to know their roles in these situations can be difficult as the roles will change depending on where the ball moves to in the attacking team and therefore roles will rotate based on who's closest to the ball.
Check out the following sessions to learn how to coach your players to remain disciplined and limit penetrative passes through the defensive unit.
3. Defending 1v1
Coaching players how to defend better individually is so important as these 1v1 situations occur frequently throughout games for the defensive unit.
This infographic is great to show to your players as it provides some key tips on how to improve their 1v1 defending.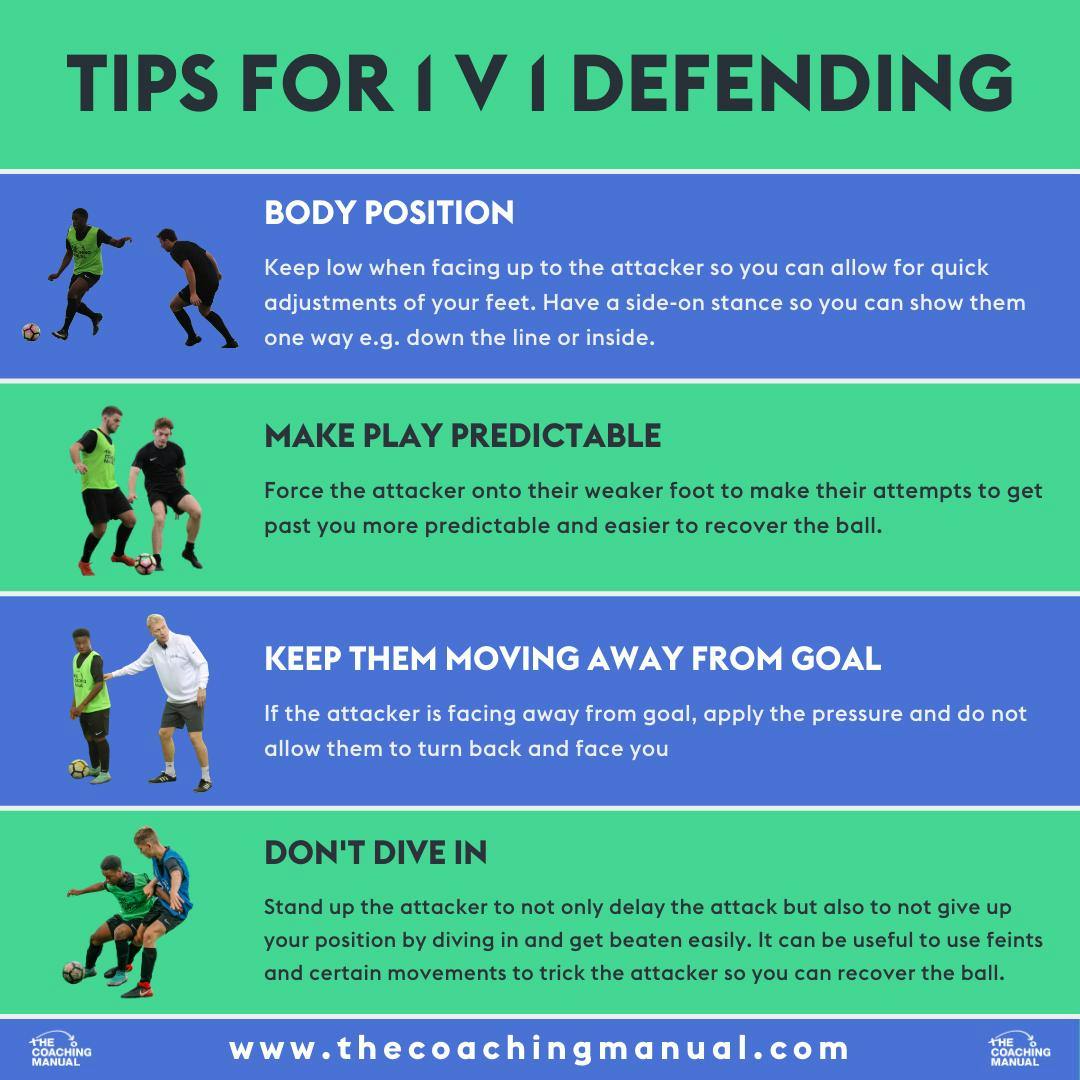 The following sessions highlight the fundamentals of defending this way and show why delaying the opponent and making play predictable is more important than diving in and trying to win possession back straight away.
4. Defending From The Front (Pressing)
Pressing from the front is a great form of defence for your team as if they can win the ball high up the pitch then the transition into attack can lead to chances on goal a lot quicker.
Coaches should show players how to have a good defensive body shape, press at the correct moments and anticipate when to tackle. Collectively the attacking players should press as a unit to prevent the ball from being played around them.
The following sessions will teach your players ways of defending in the final third, including how to press the ball high up the pitch effectively.
Defending in the Final Third with a focus on Pressing (13+)
5. Defending in Wide Areas
Play in wide areas can often provide lots of success for the attacking teams as they can isolate defenders and either play around them or get past them and then get into dangerous areas and in turn score goals. Therefore a lot of focus should be spent on how to defend in wide areas effectively.
Check out these brilliant sessions below, to learn how to coach your players to trap their opponents, force them away from the goal and win the ball back.
Get content like this and more with a Premium subscription!
Our LMA Masterclass series featuring sessions from David Moyes, Rene Meulensteen, Alan Irvine, Steve McClaren, and more
Access to 100s of other exclusive sessions
Full access to our session creation and season planning tools
The same coaching content used by the Professional Footballers' Association
Coaching Focus Web Series (Seasons 1 & 2)
For the equivalent of just £5 ($7) a month when you pay annually, sign up and start taking advantage of all that The Coaching Manual has to offer today!