1. Why do we plan a coaching session?
"Fail to prepare, prepare to fail" - Benjamin Franklin.
The planning process is vital in coaching and here are the 5 reasons why:
It helps us identify our objectives clearly 
It helps us make sure that we all understand our goal and what is expected.
Helps us predict and plan for changes within a session
Planning helps us decide how best to use our resources (time and equipment.
Planning lays the basis for us to assess and evaluate our achievements effectively.
2. WH Questions - Who
Asking the WH Questions during the planning process is a great way of getting a comprehensive picture of everything that you need to plan for your training sessions.
So the first thing to be addressed is the 'Who' and how that will affect the session. The following things need to be considered:
How old are the players? Pre Foundation Phase (3-4), Foundation Phase (5-11), Youth development Phase (12-16), Pro Development Phase (17+)
What is their ability level? Does it vary within the group?
How many players do you have per session?
Positions?
3. WH Questions - Where
The physical location of your training sessions will have an impact on what you can coach so it's important to think about this when planning. So you have to think about where are you actually training? - at an academy? A grassroots club? A local park?
Then depending on where you are you have to then consider any potential risks of the venue (safety), how much of the pitch do you have to work with? Is the space/venue likely to change throughout the season? 
One of the main considerations when thinking about 'Where' a session is what surface you will be training on astroturf/4G or grass. You need to think about how this will affect the session and what you can do with your players.
This image below is an example of the different types of sessions you can use depending on where you are training. This is useful because it replicates the actions performed in matches in certain areas on the pitch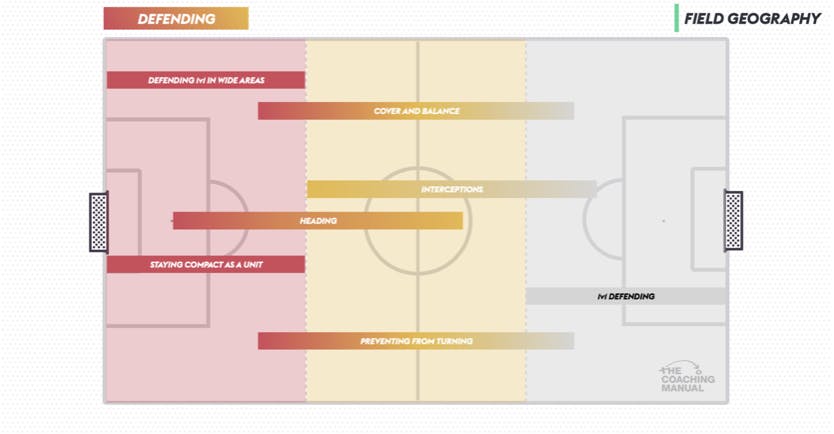 Check out the FULL webinar to see the attacking version of this graphic.
4. WH Questions - When
When do you train and how does this affect the things you are focusing on in training?
Time of the year & month (pre-season, season, competition stage)
Time of the week (early, mid, late-week)
Time of the day (morning, afternoon, night)
Sessions during a pre-season will look very different to the sessions you will run towards the end of the season and this is important to remember when you are not only planning individual sessions but also the coaching curriculum for the entire season.
You may think it's impossible to plan for an entire season because you don't have the time or what if the team is unexpectedly struggling in one area and you need to address it in training? However, The Coaching Manual season planner tool means that you can create an entire season's worth of sessions within a couple of minutes. Learn more here.
5. WH Questions - Why 
Why should you plan a coaching session? There are three main factors to consider when answering this question:
Curriculum - Does your club have a coaching curriculum that aims to develop certain skills in your players and make your team play in a certain way?
Development Areas - Improving in certain areas based on deficiencies in previous games
Game Implementation - To add new tactics or a plan for upcoming games.
6. WH Questions - What/How
The following things need to be considered when deciding what needs to be included in a coaching session:
Clear session objectives
Key Coaching points
Your coaching style
Start Point
Does it look and feel like a game?
Numbers? Even Numbers, over, underloads, floaters?
Rules? How do they affect the session?
Decision making for players
Opportunities to problem solve
Fun, engaging and develop a life-long love for the Sport 
You should also decide upon which type of session you need to structure, the infographic below highlights four different ones to be considered.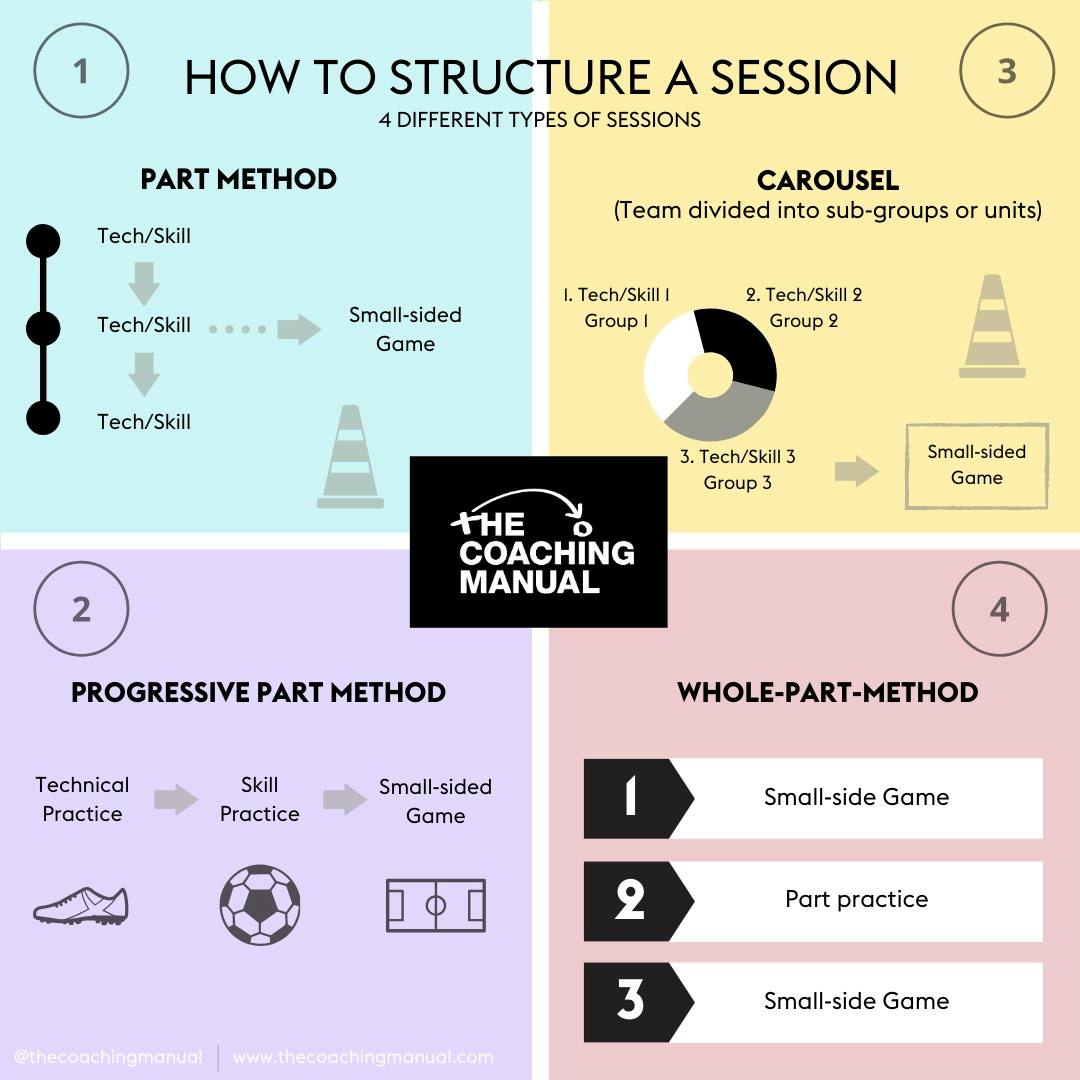 7. Different Coaching & Learning Styles
All coaches should have their own coaching style which will affect the planning process and it's the same for players, they will all have different learning styles that need to be addressed.
The graphic below shows the spectrum of styles for coaches and players and how they are equally important: 

When you decide what styles work best for you and your players you can start to plan elements of your session accordingly.
Visual Learners - Tactic Board, Demonstrations, Video
Auditory Learners - Instruction, Tell/Listen, Discussion (Breaks & Halftime)
Reading & Writing - Written Roles & Responsibilities, Written Coaching Points, Reading Documents
Kinaesthetic - Individual Practice/Touch, Self-Demo, Practice
8. Set Up & Tempo
Next, you need to think about the set up and tempo of the session. A good way to transform your sessions to the next level is to start with the end in mind. For instance, if you know you are going to end the session with a game, set it up at the start and then layer over the previous practices on top of this area. 
This allows you to transition from practice to practice very easily, maintaining a good tempo throughout the session. It can also help you to implement the 'field geography' as previously mentioned.
9. Coaching Positions
"Poor players are ball watchers; the same can be said about poor coaches" - Martin Hunter, UEFA Pro License Tutor
When coaching a session are you watching the ball or are you observing the players on and off the ball?
When taking up positions on the training pitch as a coach it's important that you can see the whole picture. This graphic shows an example of how to do this: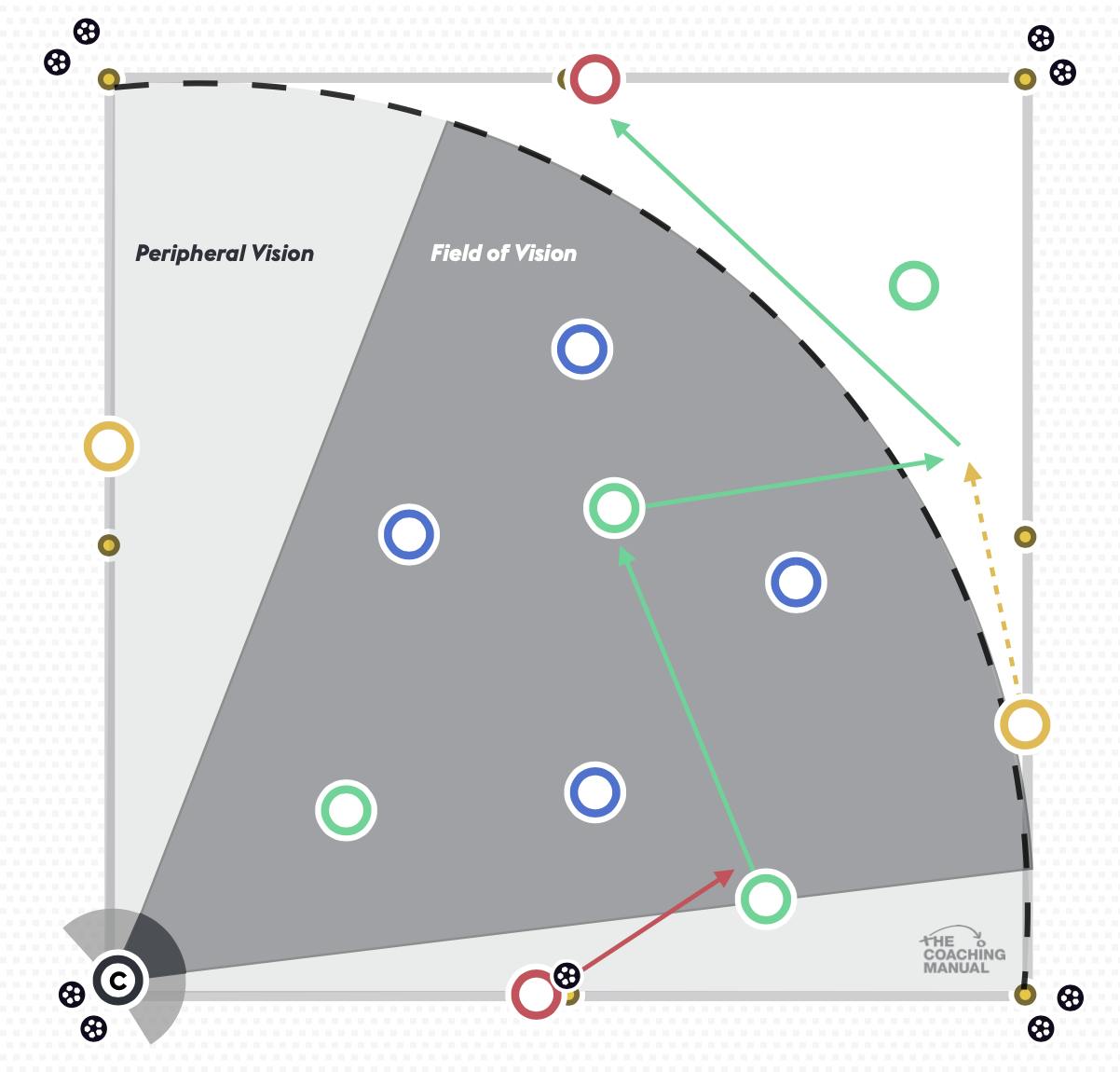 However, if a coach wants to focus on working with a single unit in a team they could position themselves differently. For example, if you are working with the attacking line on how they press from the front you could position yourself amongst the action, as shown below.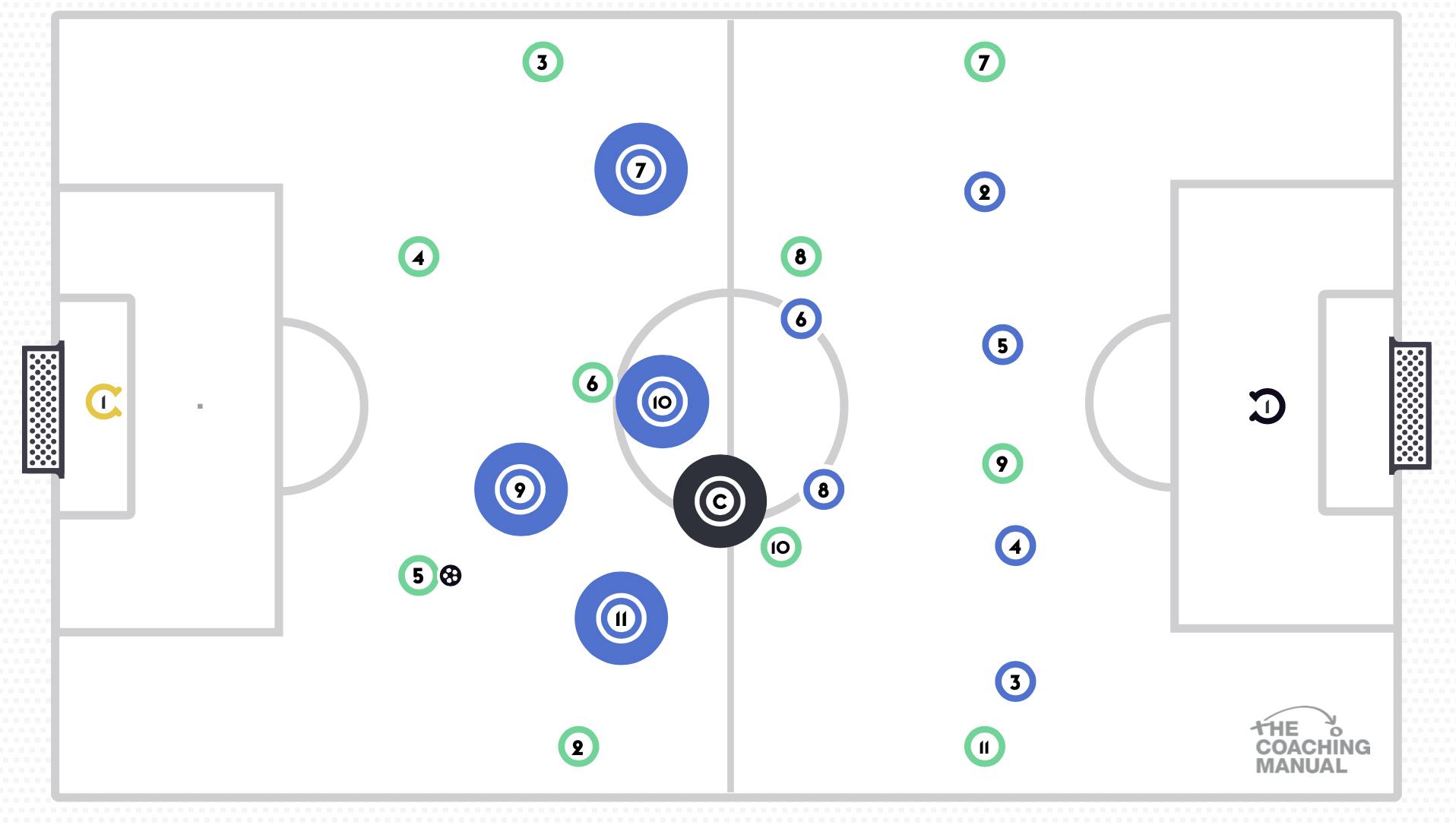 10. Interventions/progressions/regressions
Finally, it's useful practice for coaches to think about how they might intervene in certain practices to help their players understand the objectives more. Then similarly how they are going to progress or regress the practices so players can develop properly in certain areas. This infographic is a great way of planning interventions for your sessions.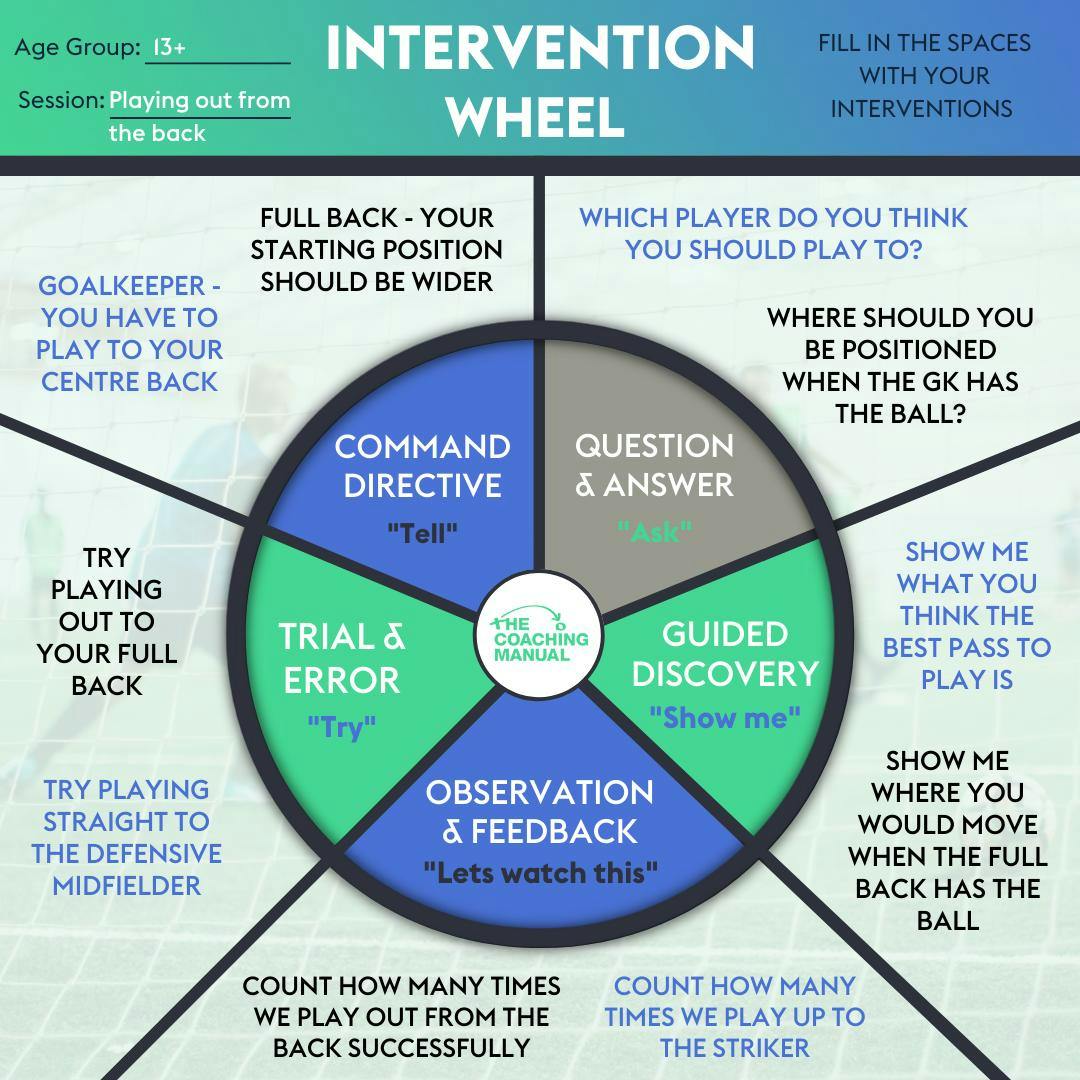 Click here to download the blank template.
You also need to be prepared to make the practices easier or more challenging depending on the skill level of individuals or the whole team. For example, if the practice is too easy the players may start to lose interest and won't see any development. Similarly, if the practice is too hard they may become disheartened.
This graphic highlights how coaches can find the perfect balance.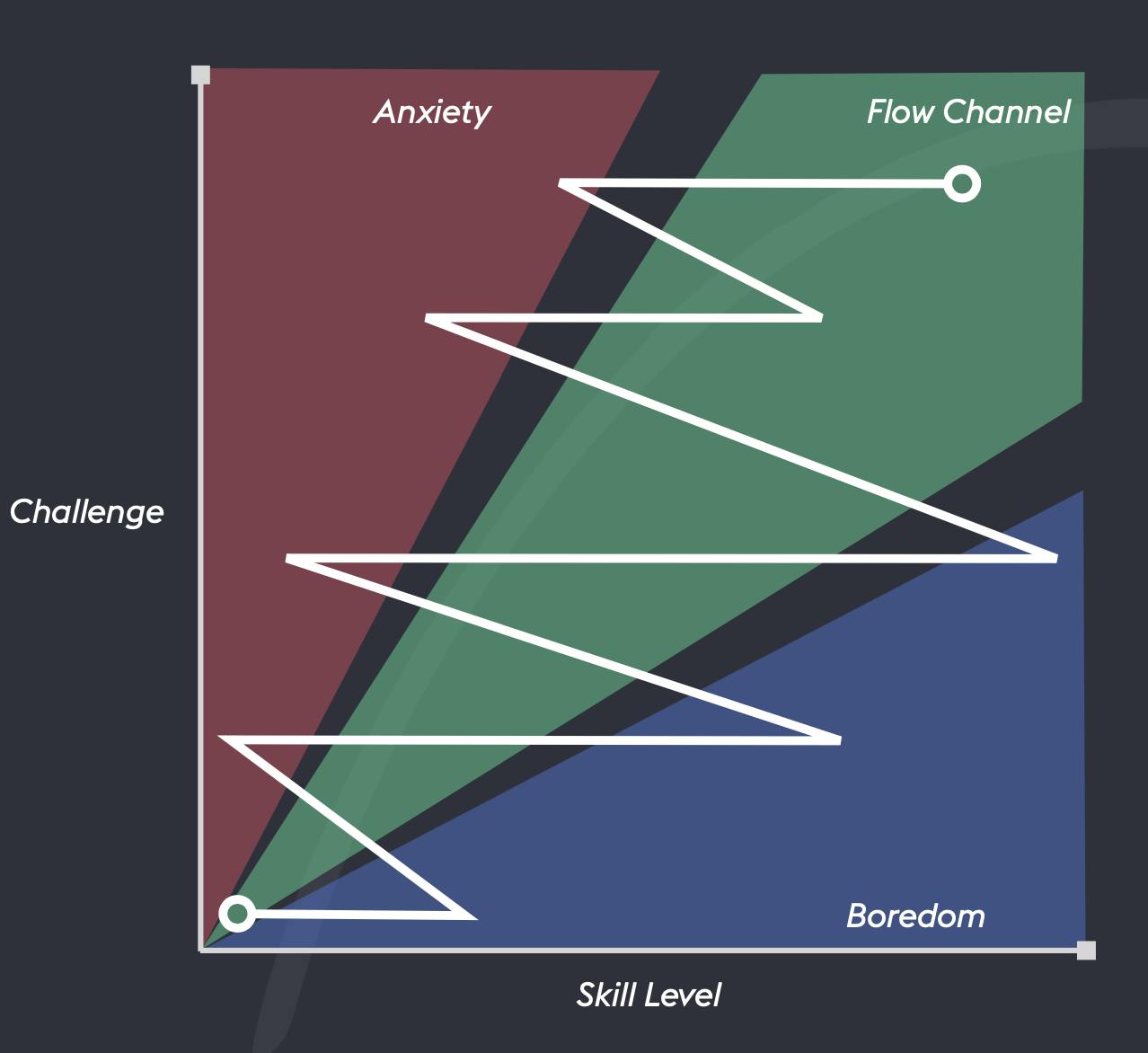 Keeping the session running in that green 'Flow Channel' is vital for the success of the session. Check out this article to learn more about the 'Flow' of a session.
Watch the FULL webinar here.
Get content like this and more with a Premium subscription!
Our LMA Masterclass series featuring sessions from David Moyes, Rene Meulensteen, Alan Irvine, Steve McClaren, and more
Access to 100s of other exclusive sessions
Full access to our session creation and season planning tools
The same coaching content used by the Professional Footballers' Association
Coaching Focus Web Series (Seasons 1 & 2)
For the equivalent of just £5 ($7) a month when you pay annually, sign up and start taking advantage of all that The Coaching Manual has to offer today!